•  Wow, I have been writing for the Ventura Breeze for nine years as we complete our ninth year anniversary (cats and the Breeze have at least nine lives). I was just a kid when I started.
I want to thank my wonderful readers, Scampclub members, my remarkable publisher-editor( I had to say that to get snacks), Victoria Usher for her contributions and Savana for leaving me alone while I am working at the computer. And those of you that are voting for me as president.
•  East Ventura Animal Hospital, located at 10225 Telephone Rd. is having a Spooktacular Open House on Saturday, October 22nd from 12-4pm.
There will be many free activities including pet costume contests, pet photo booth (from 12:30 – 2), hospital tours, trick-or-treat stations and lite refreshments. In addition to this there will be raffles and prizes, pet adoptions and discounted microchips while you are there as well. Come join the fun and bring your pets!  647-8430
•  The Tinker's Treat Project, started by long time Ventura resident, John Darling, has created a Go Fund Me page to help raise funds to pay the adoption fees of senior dogs. Isn't that wonderful?
The project started with enough funds to pay the adoption fees for 23 animals.   Since its launch in June of this year, 18 dogs have found homes with the fund paying the adoption fees for each.
The first recipient of the fund was a 13 year old, toothless, Chihuahua named Penelope who was adopted along with her longtime partner, Jack, an 8 year old Chihuahua.
The Go Fund Me Page is https://www.gofundme.com/2r2uuv8
For more information about how you can help, visit Tinker's web site www.tinkerstreat.com .
I have written before about the National Police Dog Foundation. They have a new website
www.nationalpolicedogfoundation.org so check it out.
The needs of law enforcement agency K-9 units is growing at a rapid pace. They get grant requests almost on a weekly basis and are committed to help these agencies meet their needs. And so as their needs grow, so must our efforts to meet their needs. This new website is part of their efforts to raise more funds to ensure the proper purchasing, training and medical needs of the K-9s, during active duty and retirement.
•  by Victoria Usher
The city of Fillmore now has more than $40,000 in city funding which they intend to use to help fund a dog park. On October 11th the Fillmore City Council voted on where the location for the new dog park will be. The City Council were supposed to vote on the location for the new dog park earlier than October 11th, but they decided that they wanted to find out more information on how big or small the dog park would be.
The Fillmore Parks and Recreation Commission approved the idea of a new dog park, which now leaves the final say in the hands of the City Council. As of right now there are no dog parks in the Fillmore or Santa Paula area so all five of the council members were very much in favor of the new dog park idea. Dog owners living in Fillmore and Santa Paula must drive to Ventura or Santa Clarita if they wish to take their dogs to a dog park.
This is beloved Charlee … Sept.13, 2003 to Aug.28, 2016. a wonderful companion to Kyle for 12  years.  He will be sorely missed by all.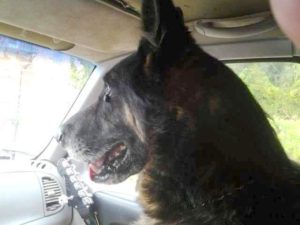 Charlee ~ Sept.13, 2003 – Aug.28, 2016