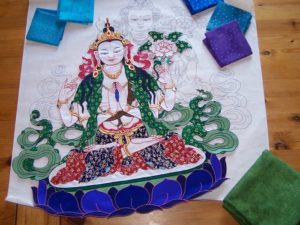 Focus on the Masters (FOTM) will present a film screening of "A Conversation with Leslie Rinchen-Wongmo" on Wednesday, October 26 at Ventura College.  The program will begin at 7:00 p.m. at the Applied Science Center.
Leslie Rinchen-Wongmo is a Ventura County textile artist and caretaker of a sacred Tibetan tradition: silk appliqué thangka. Creating thangkas (sounds like Tonka) is more than an art form, it is an ancient practice Leslie learned while living in Dharamsala, India, home to His Holiness the Dalai Lama and the Tibetan government-in-exile. Leslie is one of only a few women who have mastered this highly specialized craft.
A Conversation with Leslie Rinchen-Wongmo is the edited version of her FOTM Artist Spotlight interview that took place on March 28, 2015, hosted by FOTM founder Donna Granata as part of Leslie's formal documentation for the FOTM Archive & Library.
For additional information, you may call Focus on the Masters at 653.2501.  To learn more about Leslie Rinchen-Wongmo, go to www.ThreadsOfAwakening.com.