Leo Tauber, MD and his family at the David Fainer, MD Awards Dinner
In 1992, the Ventura County Medical Resource Foundation (VCMRF) presented the First Annual Fainer Awards and the health care community came together to commemorate the life of the late David Fainer, MD who served as role model and mentor for many in the medical community. An exemplary and empathetic professional, Dr. Fainer was known for his motto: "The secret of the care of the patient is in caring for the patient."
At the First Annual David Fainer, MD Awards Dinner the Foundation honored physician Emeritus of the Year, William J. James, MD who was Ventura County's First Neurosurgeon. The second year, Leo Tauber, MD was honored as the Ventura County Internist, and in 2004, Dr. Fred Gunn, Jr. was honored as the Physician of the Year.
At the Fourth Annual event the community honored a Physician Emeritus, Physician of the Year and Nursing Award and the following years more worthy professions in the health care arena were recognized for their contributions to the community.
In 2013, The Board of Directors added Dr. Leo Tauber's name to the event. Dr. Tauber, along with four other fellow physicians founded the Buenaventura Medical Clinic in 1950 and formed the Medical Research Foundation – today known as the Ventura County Medical Resource Foundation.
On Thursday, August 18 at the historic Lloyd-Butler Estate, VCMRF held the 23rd Annual David Fainer, MD & Leo Tauber, MD Awards Dinner. The Masters of Ceremony were Lucas Johnston, VCMRF Board Chair and Vice President & Regional Relationship Manager of Pacific Western Bank; Mary Jarvis, VCMRF Board member and Public Affairs Director of Kaiser Permanente, and Gary Wilde, President/CEO of Community Memorial Health System, and the event Live Auctioneers were Bonnie and Richard Atmore.
These awards recognize outstanding community contributions by those directly involved in the delivery of health care in Ventura County who, through professional, charitable and public service activities, has demonstrated they exemplify Dr. Fainer and Dr.Tauber's ideals of generosity, excellence and integrity. At the event this year, VCMRF also celebrated its 60th anniversary, as well as Dr. Tauber's 100th birthday.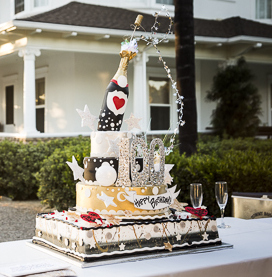 The 2016 award winners include: Hospital Physician, Gail Simpson, MD; Community Physician, John Walters, MD; Hospital Nurse, Diana Jaquez, RN, MSN, OCN, ACHPN; Community Nurse, Rosemary Libman, RN; Oral Health Specialist, Scott Packham, DDS; Vision Care Specialist, Paul J. Dougherty, MD; Behavioral/ Mental Health Professional, Deborah Thurber, MD; Allied Health Professional, Camarillo Health Care District, and Trailblazer Award, Assisted Home Health & Hospice – Elaine Donley.
Since, 1956, VCMRF's mission is to improve, in partnership with others, access to needed health care for the most vulnerable and underserved residents in Ventura County. VCMRF provides oral health, vision care and mental health care services to low-income children through our Children's Resource Program and survivorship wellness retreats for underserved women undergoing cancer treatment at Ventura County hospitals.