Search dog training center prepares dogs and handlers for major disasters.
In August guests, Seabees and staff were invited to the National Disaster Search Dog Foundation's National Training Center located at 6800 Wheeler Canyon Rd, Santa Paula (it feels like Ventura).
They were there to review the work completed in the past year by Navy Seabees from Naval Mobile Construction Battalions 5 and 25 through their Innovative Readiness Training Program.
The Search Dog Foundation is building a 125 acre National Training Center to give America's Canine Disaster Search Teams the advanced training needed for their most challenging deployments around the world and here at home.
It is the only training facility in the U.S. dedicated solely to first responders and their canine partners who risk their lives to make sure no one is left behind in the wake of a disaster.
The "Disaster Training Zone" consists of  unique advanced search sites that simulate the conditions encountered during actual deployments including collapsed structures and train derailments.
The "Search City" includes Murphy's Firehouse, Jessie's Schoolhouse and Maggie's Rubble Pile. Where the dogs can practice on disaster simulation scenarios.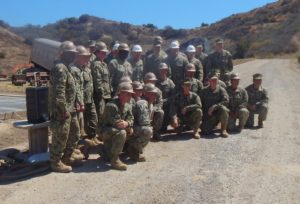 Obedience and search and find demonstrations were held show casing the wonderful dogs abilities and training.
In 2015 Scamp wrote "The six SDF-trained Search Teams who deployed to Nepal as part of Team USA are now home after a long, challenging 18-day mission after joining first responders from around the world searching for survivors of the deadly Nepal earthquake. During the deployment, the teams helped rescue a teenage boy buried beneath the wreckage, and cleared scores of buildings, giving closure to families and letting rescue crews know they could move on to other areas."
National Rescue Dog Training Center