"I am intelligent and will bark on your behalf. And I am learning to speak Russian in case I need to negotiate with Putin."
After much deliberation, and looking at the current presidential candidates, I have decided that I am more qualified than any of them, so I hereby announce that I am a write-in candidate for the President of the United States of America.
My new independent party will be called the Dogmaterian Party. And my slogan is "Unleash America".
I am a college graduate and earned a Bachelor's Degree in Pawlitical Science from Furry State University with a minor in Journalism. I have some strong credentials. For example, I have been writin my own column for the Ventura Breeze since its founding 9-years ago and am well known in the community.
I do not have an existing agenda and will consider each issue on its own merits. I like all people and am a pretty good listener (I only understand about 150 words but 'believe me" that is as many as one of the other candidates seems to understand).
There is some question whether I was born in America and am therefore eligible to become president. While my parents were born in Tibet, I was born in Fillmore.
These are just a few things that I promise I will accomplish when I become your president:
Build a 100 foot high wall around Canada to keep out Canadian geese because they are so noisy and they poop on innocent Americans (and they honk instead of speaking English).
I will humanely round up all French poodles and send them back to France where they belong.
I will not send private peemails containing classified information.
I am the only candidate that can't be bought for money – though, I really like treats . I would insist, of course, that all treats are manufactured in the U.S.of A.
I will provide more funding for our pawlice and fire departments.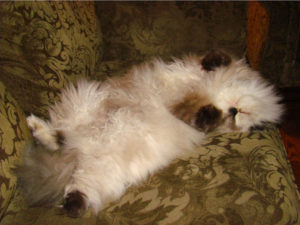 After much thought, and speaking with my family, I have chosen Savana – my roommate cat – to be my running mate. It was difficult to ask her because she kept running away and hiding under the couch. With her on the ticket I will get the votes from the "independents".
I will hound you until you vote for me even if I am dog tired. I'm not wagging but I believe that I would make a great president. I will keep a pawsitive attitude and be a pawpular president.
On September 18 , I will have a rally at A Secret Garden Florist Café (981 E. Main) at 1pm to officially announce my candidacy. I encourage you to attend to support me. You are welcome to bring your dogs. And you can buy some pupcakes. The barking lot is small so bark in the street. I will be handing out pawtographs.
I am accepting donations to help with my campaign. No contributions under $10,000 will be accepted and I accept credit cards.
Here are just a few of the endorsements I have received:
"I'm excited you've decided to run for president Professor Scamp. It's about time we have a levelheaded, four legged candidate with realistic views. Best of luck!"
Breezy Gledhill
" We've been doing it metaphorically for 240 years, let's put an actual son of a bitch in the White House. His "Wag more, bark less" platform really appeals to me."
Alfred Lewis
"Scamp is clearly a different breed of politician – he has common "scents", obeys his handler, and knows when to stop yapping. Regardless of which side of the political aisle you're on, I predict he likely will become your best friend."
Councilmember Mike Tracy
"That is awesome!!! You have my vote!
Be blessed!"
Pastor Jim Duran
"I think Scamp would work doggedly on behalf of the American people and dogs."
Barbara Hinton
"I fully endorse Scamp as a presidential write-in candidate."
Jenny Guy, Mustang Marketing
"He is, most definitely, The People's Choice!"
Barbara Brown
"You have my vote!!! Woof "
Suz Montgomery
"We at Rubicon Theatre Company wish you all the best!"
Michele Hunter
"You got my vote."
Deputy Mayor Neal Andrews
I look forward to your support and seeing you at my rally. Please send your endorsements and encouragements (and credit card information) to [email protected] . Doggone right you will. From dog house to White House.