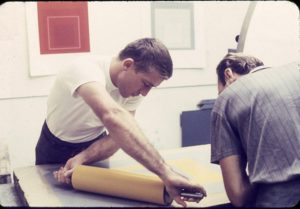 Focus On The Masters – Artist Spotlight Interview an evening with James L. Webb
Saturday, September 10, from 5:30 to 7:00 p.m.
Brooks Institute Screening Room
5301 N. Ventura Ave.,
It's a pleasure to welcome back to the Artist Spotlight James L. Webb who was extensively documented by Focus on the Masters in 2009.  Jim, for over 10 years, was a master printer for Gemini G.E.L., the ground-breaking and highly respected publisher of fine art that is now celebrating its 50th anniversary.  Free to FOTM Members – $10 General public, $5 students and seniors. Reservations required 653-2501
AfterGLOW Fundraising Event:  Join us for a celebratory supper immediately following the interview at the Ventura home of Jim & Mary Galbraith. We expect the AfterGLOW to sell out so reserve your seat early! The AfterGLOW dinner is $25 for FOTM members, $35 for non-members. Paid reservations required prior to September 6.