•  I received this from a reader that I want to share.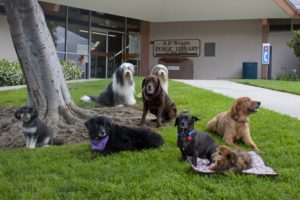 "On page 6 (last issue) you mention the Paws For Reading program. Would appreciate it if you would issue a correction in the next issue that the dogs are Certified Therapy Dogs, not Service Dogs. Service Dogs are trained to serve one person and their specific needs."
"Certified Therapy Dogs are all AKC Canine Good Citizens, and have been certified as Therapy Dogs by passing a fairly rigorous evaluation with lots of training. Love On A Leash, for example, recertifies its animals and handlers every year. Many of our therapy dogs have advanced degrees to work with young children and seniors."
•  Buddy Nation helps homeless dogs! Fabulous, fantastic, fun yard sale benefitingand helping homeless pets and their human companions will be held Saturday, July 30th from 8am-4pm. 545 San Clemente(between Ocean & Channel) Come and shop and help a Buddy!
•  A fundraiser will be held on July 24th, 6:30-9:30 at the Ventura Improv Company 34 N. Palm for the All For Love Animal (AFLAR)rescue group. A fun evening at a fun venue. serving Santa Barbara and Eberle Wines for a small price. Desserts and tasty tidbits will be complementary!
$25 per ticket and it helps animals that are rescued, cared for and fed. Volunteers take them to vets for care, back and forth to foster homes and to the weekend animal adoptions all over the county, not to mention all the walking and loving these special animals get. Contact 445-3535 for reservations
•  Canine Adoption and Rescue League (C.A.R.L.) has announced its new "CARL's Golden Oldies" program. CARL's Golden Oldies is funded in part by a grant from The Grey Muzzle Organization. The program focuses specifically on the unique needs of dogs aged 10 years or older (I guess I'm a senior citizen but don't look it). The program was designed to save the lives of senior dogs who might otherwise be overlooked by potential adopters in the overcrowded shelters.
CARL's Golden Oldies is a partnership between them and The Grey Muzzle Organization, in close cooperation with Ventura County Animal Services (VCAS) and Santa Paula Animal Rescue Center (SPARC).
Senior dogs are historically considered difficult to adopt, with most families gravitating towards younger animals. Under the new program, VCAS and SPARC identify these less-adoptable senior dogs. C.A.R.L. will then either place the dogs in pre-approved foster homes, or board them at CARL's Pet Care Center, a public boarding facility that doubles as the temporary home for a number of rescue dogs.
The funds provided by The Grey Muzzle Organization are used solely for the medical and dental care of  Golden Oldies dogs. Food and board is $10 per day per dog, and is paid by tax-deductible donations from the community. To learn more about C.A.R.L. and how to volunteer or donate towards CARL's Golden Oldies, visit http://www.carldogs.org.
VCAS is hosting its annual blockbuster Adopt-A-Thon and it's going to bigger and better than ever! This year they have merged this event with the nationwide Clear the Shelters event sponsored by NBC4, Telemundo52 and the Petco Foundation.
The event will be held on Saturday, July 23, 2016 from 11:00am – 4:00pm at VCAS
at 600 Aviation Drive, Camarillo. All dog and cat adoption fees will be fee-waived ($20 license fee if applicable). VCAS operates two shelters within the county. The shelter in Camarillo houses over 400 pets and the administrative offices. Their smaller facility in Simi Valley houses nearly 40 pets at a time.
•  A Ventura man has pled guilty to Failure to Properly Care for Animals a misdemeanor (better than nothing I guess). He must spay and neuter all personal animals, agree to a search by probation or peace officers and complete 36 months of probation. Humane Officers worked with Animal Control Officers, Code Enforcement Officers and Ventura Police Department to bring charges against him.
Ventura County Humane Officers are at the Humane Society of Ventura County in Ojai, where cases of animal neglect and abuse throughout the county are investigated.
To become a Humane officer hundreds of hours of training is required as well as an extensive background check performed by an outside investigations agency.
Jolene Hoffman Shelter Director, Humane Society of Ventura County stated "We would like to thank all of the deputy district attorneys for their hard work in prosecuting animal abuse cases from the past to present. "
•  by Victoria Usher
A ten-year-old Anaheim police dog by the name of Bruno needs to be recognized for his heroism. This brave German Shepard has recently passed away due to complications from a shooting that happened two years ago. Bruno had recently been taken to a hospital where he had to have emergency surgery related to the injuries that he got from the shooting. It wasn't too long after the surgery that his organs started to shut down and a heartbreaking decision was made to bring an end to his pain, that same day Bruno was euthanized.
When Bruno was shot he was in the process of helping his handler, Officer R.J. Young search for a suspected parole violator. The man had been hiding behind a trashcan with a gun and he had caught both of them by surprise. Bruno is without a doubt responsible for saving the lives of at least a couple police officers who were at that shooting. The brave police dog had been living with the Young family and Young's wife, Rachel, actually wrote a children's book about Bruno and dedicated it to all law enforcement officer families.
---
A very loved dog who used to go to the gym every day with her Dad, Larry.
She will be greatly missed by all.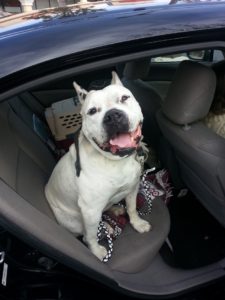 Primo – 2006-2016