•  Local non-profit dog rescue Canine Adoption and Rescue League (C.A.R.L.) will host its 19th Annual Pooch Parade fundraising event on July 17th, from 9:00am-4:00pm at San Buenaventura State Beach. The theme of this year's event is "Friends are Fur-Ever", highlighting the lifelong commitment between a family and their pets.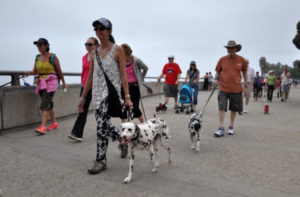 The Pooch Parade is a Ventura County tradition, with attendance in the thousands. The event begins with the parade itself, which is a 3-mile fundraising dog walk from San Buenaventura State Beach to the Ventura Pier and back. In 2015, approximately 250 dogs and their owners participated, many in costume. Registration numbers are expected to increase this year.
The event continues at San Buenaventura State Beach for the rest of the day, featuring:Live blues music by Kelly's Lot, DJ and MC Marty Glassman, Over 50 booths, pet-related arts, crafts, and services, Local animal rescues, food trucks, silent auction, agility and disco dog demonstrations, dog contests, including best costume and best kisser.
"The Pooch Parade is our biggest and my favorite event of the year," said C.A.R.L. President Mary Saputo. "It's like a fair, but everything is all about dogs and other pets. C.A.R.L. runs entirely on volunteers and donations, so the Pooch Parade is vitally important to the work we do saving the lives of homeless dogs. We're very grateful to the community for welcoming C.A.R.L. and the Pooch Parade, and everyone gives 100% to make it a big success."
Admission is free, and community members are welcome to volunteer to support the rescue. To learn more about the Pooch Parade, how to register, or how to volunteer, visit http://www.poochparade.org or call 644-PETS.
To learn more about C.A.R.L., how to donate, how to adopt, or how to volunteer, visit http://www.carldogs.org or call  644-PETS.
•  I'm so sorry to read that Long Beach Police K9 Credo has been killed in the line of duty. Both the Belgian Malinois and the suspect were killed while officers attempted to take the wanted man into custody.
•  I have always wondered why Savana is such a funny eater. When I am served my dinner I eat it in 2 minutes while she kind of looks at hers, take a bite or 2 leaves it, goes back a bit later nibbles some more and maybe by midnight she is done eating.
Maybe this is why, cats have evolved to eat foods with a certain ratio of protein to fat so maybe she needs to check it out each time to make it is the correct ratio. So evolution is the reason.
Aroma, taste and texture of food are less important to cats than is nutrition, according to a new study that helps explain not only finicky feline behavior but also what primarily controls cat cravings.
Cats as it turns out are driven to eat foods with a preferred ratio of protein to fat 1 to 4. This translates to about 50:50 in terms of percentage of energy from protein and fat, according to the authors of a study, published in the journal Royal Society Open Science.
What's more, "Cats can display neophobia," lead author Adrian Hewson-Hughes wrote "This means they are unwilling to try a food that is new or different to their normal food, which may make them appear fussy."
But for me the only ratio is the amount of food compared to the size of the bowl. It needs to be 1:1.
•  by my friend Victoria Usher
New Hampshire had their 100th Newport Winter Carnival  and many attended and had a wonderful time with their family and friends. There was however a bit of an issue when an international animal advocacy group decided to protest against a specific event that was at the carnival which was billed as "Greased Pig on Ice".
They did end up backing down once they discovered that that there were in fact no real pigs involved in the event, only a man on skates dressed in a pig costume. One of the organizers of the carnival, Steve Smith, explained that that he did actually tell a PETA investigator in an email that there would be no real animals involved at all.