2016 winning poster by 16-year-old Madison Lomis of Ventura
All of the Poster Contest entries will be displayed in the Youth Expo
The 2016 Ventura County Fair has announced the winners of the 2016 Poster Contest. The contest was open to County youth in grades 5 – 12.
16-year-old Madison Lomis of Ventura rendered the winning 2016 poster illustration digitally, a first for the Ventura County Fair. Madison is a student at Buena High. She devotes her free time to drawing, both traditional and digital and perfecting her various artistic techniques.
The poster illustration depicts a bird's eye view of the Ventura County Fair with a full moon setting over the ocean and Channel Islands in the distance. In the foreground are the silhouettes of palm trees framing a colorful Carnival Midway with Rides and Games
The winning artwork will be used as the featured art for the 2016 Ventura County Fair poster and in marketing materials and souvenirs.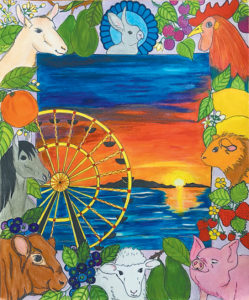 Second place was awarded to 12-year-old Anna Sorensen of Simi Valley for her acrylic painting of the Ferris wheel soaring over a beautiful ocean sunset, framed by prize winning livestock.
Third place was awarded to 13-year-old Carys Garvey of Ventura for her colored pencil rendition of prize winning sheep looking out over the carnival with the ocean and the Channel Islands off in the distance.
The Contest was held in the spring and the winners were chosen from an entry pool of 38 works of art.  The contest judges were Fairgrounds CEO Barbara Quaid, Fair Director Cecilia Cuevas, Fair Floriculture Superintendent Barbara Schneider, Fair Exhibits Supervisor Kim Leach and ride owner Bruce Perelman.
All of the Poster Contest entries will be displayed in the Youth Expo at the 2016 Ventura County Fair. All of the children who entered the contest will receive 2 tickets to the fair and will be invited to ride on a float in the Ventura County Fair Parade on Saturday, August 6.
For information about the Ventura County Fair please call  648-3376 or visit www.venturacountyfair.org.