by Elisabeth Mondragon
Start Your Day off Right
One of the best ways to start your day with energy and nutrition is with a healthy breakfast. We know it can be easy to just grab a donut on your way to work or simply skip this meal altogether, but both can grind your weight loss plan to a quick halt. Eating breakfast helps to fuel your body and brain so that you are ready to take on your day. Here are some quick and delicious choices for your mornings that will get you started on a healthy note.
Oatmeal
Oats contain beta-glucan, which is a type of soluble fiber that has been shown to help lower cholesterol when eaten on a regular basis.  Give steel-cut oats a try. They are the least processed of all oats.
It may not be instant oatmeal, but steel-cut oats only take about 15 minutes to cook, and you get more fiber with each bite. Eating healthy high-fiber foods can help you feel full, so you can resist eating more food than you need. If you can, try to avoid flavored instant oatmeal which is more processed and contains added sugars. Instead, top off your plain oatmeal with flavorful extras like fruit, a few teaspoons of honey or a few nuts. Sneak in some added protein by preparing your oats with one cup of nonfat milk.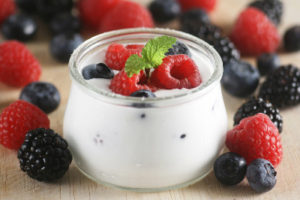 Greek yogurt
Starting your day with protein is a must. Protein helps to keep you full throughout the morning so that you're not reaching for that sugary snack in between breakfast and lunch. Greek yogurt has a lot of bone-building calcium and nearly twice the amount of protein as regular yogurt. It's an easy on-the-go breakfast, and you can top it off with things like your favorite high-fiber cereal, 1Tbsp sugar-free jelly, 2 tsps ground flaxseed or fruit for a tasty, satisfying meal.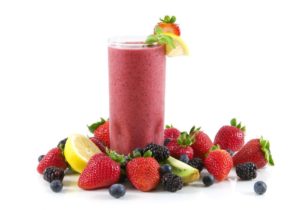 Protein-packed fruit smoothie
If you don't have time to sit down and eat breakfast, try whipping up this 250 calorie fruit smoothie. Blend together 1 cup strawberries, 1 scoop protein powder, crushed ice and 6 oz nonfat yogurt and you've got yourself a healthy and flavorful on-the-go breakfast. Plus, you've just crossed one milk and one of your daily fruit servings off of your list.
Now that you have a few ideas to get you started, try incorporating these into your morning meal on a regular basis. Think of breakfast not only as a chance to refuel your body after a night of sleep, but also a chance to take on your day in a positive way.