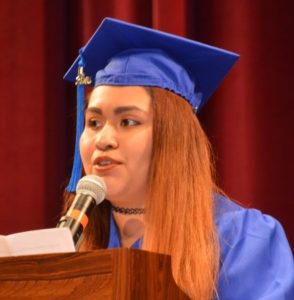 by Sheri Long – Vista Real Charter High School Community Liaison
Vista Real Charter High School held its 11th annual graduation on May 24. Eighty-three graduates took to the stage in full cap and gown to receive their hard earned diploma. Many of these students accepted their diploma as the first in their family to graduate from high school or in the face of daily obstacles. In many cases, these students never dreamed of graduating in spite of homelessness, health problems, the need to support a family, or having become young parents themselves.
The Vista Real Guitar club played the traditional processional of Pomp and Circumstance and the evening's keynote speaker was Frankie Guzman, staff attorney from the National Center for Youth Law. Mr. Guzman shared his personal obstacles with the graduating class in stating that "life is ten percent of what happens to you, and ninety percent how you react to it." Along with Mr. Guzman, three student speakers, Serina Garcia, Andrew Zendejas, and Dana Nininger-Erck shared their own stories of what lead them to high school completion at Vista Real from the need to care for an ill parent to a pregnancy at age 17.
The Choices in Learning Scholarship was granted to Patricia Ramirez who will be attending a program in the hopes of becoming a dental hygienist. With personalized learning, scheduling flexibility, one-on-one attention and workforce readiness programs, Vista Real has prepared these graduates for future endeavors. While some choose to attend college through the mentorship and application assistance provided by Vista Real, others will be moving into the workforce to become productive members of the local community.
We commend these students for their perseverance and willingness to work toward their future and wherever it may take them in a positive direction. While student speaker Zendejas plans to join the U.S. Coast Guard and Nininger-Erck will be starting college in the fall, Serina Garcia spoke for every student when she stated, "there is always a way to reach out and grab your dream."
For more information on Vista Real and any of the six resource centers located throughout Ventura County please visit us online at VRCHS.org or call  437-9332.