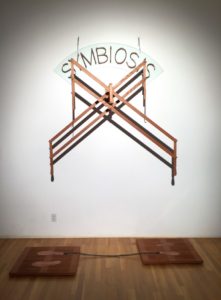 Jeff Sanders "Tell Someone Who Cares"
Opening Reception: Friday, June 3, from 6-9 p.m.
Exhibit Dates: June 3 – 25,
Vita Art Center
432 North Ventura Ave. Studio 30
www.vitaartcenter.com
Gallery hours: M-F 10-4 pm Sat. & Sun. by appointment
Jeff Sanders was born in San Francisco. He earned a bachelor's degree in Industrial Design and a master's in Sculpture from California State University at San Jose. After briefly working as a college art instructor in the early 1970s, Jeff became a full-time artist, art-fabricator and art project manager. Bronze or steel are the preferred media for most of the artist's outdoor sculpture, which is held in both private and public collections. His subjects involve the everyday image of America. From small to monumental.