Event held to inspire more kids to keep their minds and bodies active. Photos by Michael Gordon
On Saturday, April 30 the Ventura Family YMCA held a free community event to inspire more kids to keep their minds and bodies active. This year marks the 25th annual YMCA's Healthy Kids Day®, the Y's national initiative to improve health and well-being for kids and families.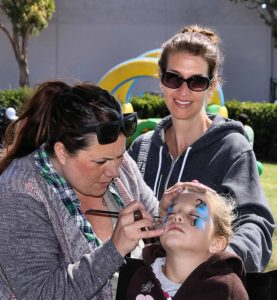 Cheryl Heitmann  delivered the welcome address.  The day-long event featured a football clinic run by former NFL players Lorenzo Booker, Ronney Jenkins, and Kevin Thomas. The Major League Baseball's Pitch, Hit & Run skills competition and much more.  Lost child fingerprinting was provided by the Community Police Foundation and the Ventura Police Department.
YMCA's Healthy Kids Day is celebrated at over 1,300 Ys across the country by over 1.2 million participants. Research shows that without access to out-of-school physical and learning activities, kids fall behind academically. Kids also gain weight twice as fast during summer than the school year. As spring turns to summer, Healthy Kids Day is a powerful reminder not to let children idle away their summer days. Ventura Family YMCA is located at 3760 Telegraph Road.