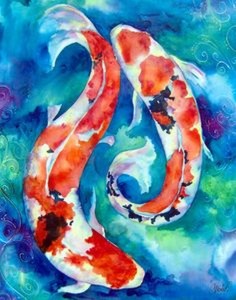 Reservations are being taken for Sunday, Feb. 21
"Koi Fish, Water & Wine"
Take to the water with this colorful symbolic fish, learning the timeless art of watercolor painting.
The class fee is $40 per person, or $35 for MVC members, which includes instruction, art materials and light refreshments. Each class is limited to 40 people. To reserve, call  653-0323, x315, or go to the museum's website at http://venturamuseum.org/studiosunday/ and pay online.
The Museum Ventura County's new art instruction series, Studio Sunday, has provided a great way for friends to gather at the museum and cultivate their inner artist.  The Studio Sunday painting classes are taught by Mary Perez and Megan Bisbee of Vita Arts Center, and are open to all regardless of their level of expertise. The classes occur once a month on selected Sundays from 1-4 pm at the museum although this one class will be held at the VITA ARTS Center at Bell Arts Factory.  Each of the classes has a theme and style of painting or creating that evokes famous artists.