Bake sale by VHS Interact raises $2,635
On Feb.10,  the Rotary Club of Ventura Club#691 held their  Annual Ventura High School Rotary Interact Bake Sale lunch at the Derby Club. The baked goods were prepared by members of the Ventura High School Interact Club, 42 strong and auctioned off at the event to raise money for their many activities.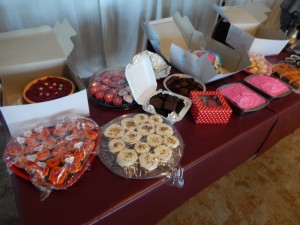 The high school bakers showed off their pastries to the several hundred Rotarians and guests enjoying their lunches as they walked around the room with the delicious pastries. They  raised $2635 from the auction.
Interact is a club for youth ages 12-18 who want to connect with others in their community or school. Interact club members have fun while carrying out service projects and learning about the world. Interact clubs organize at least two service projects a year: one that benefits their community and one that encourages international understanding. While Interact clubs receive guidance from individual Rotary clubs, they govern and support themselves.
With all their combined activities The Rotary Interact Club of Ventura High School has contributed more than 1000 hours of community service.
As Interact moves forward in 2016 they will be hosting an on-site Valentine's Day Dance at Ventura High School for children with special needs, participate with a joint Boys & Girls environmental project, Earth Day project by distributing grocery totes and the utility box in front of Ventura High School will soon be showcasing the artistic works of this Interact group.
Here is a short list of some of the events the VHS Rotary Interact youths participated in in 2015:
•  Volunteered for the Breast Cancer walk as a joint project with Rotaract [10/10] and supplied about 20 volunteers
•  Color Run-provided 25 volunteers
•  Purchased 100 Thanksgiving meals for FOODShare
•  Completed the VHS Food Fundraiser
•  Planned a Special Needs social at VHS, a joint project with another VHS club
•  Volunteered for the Turkey Trot and collected food for FOODShare
•  Created homemade cards for the Seniors with Rotaract,
•  Participated in the Foster Care kid Christmas  gift wrapping with Rotaract
•  Participated in the Rotary Children's Holiday shopping