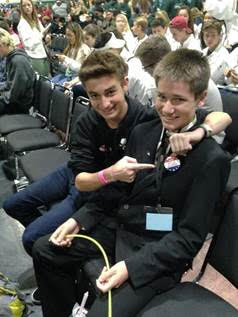 The Channel Islands YMCA Youth & Government delegation joined more than 3,500 youth from across the state in Fresno this weekend for a Training & Elections conference held Jan. 16-18 at the Fresno Convention Center. Twenty-two teens with the Ventura Family YMCA were part of the team.
The Youth & Government program offered at YMCAs — including the Santa Barbara, Lompoc, Stuart C. Gildred, and Ventura branches of the Channel Islands YMCA — gives students a chance to learn about California's legislative and judicial processes by writing bills, preparing briefs, and governmental role-play.
The Ventura Youth & Government delegates are ninth through twelfth graders who attend Foothill Technology and Ventura High School.  In California, the experience culminates with Model Legislature & Court in Sacramento in February. To support this program or to learn about how to participate, please contact Sherry Gutsch at 642.2131 ext. 16, or visitciymca.org/ventura.
Throughout Ventura County there are challenges of homelessness, obesity, and people from all ages and backgrounds who are struggling to reach their full potential.  For 128 years, the Ventura Family YMCA has been stepping in to address these community struggles through the help of volunteers, collaborators, and generous donors.
Ventura Family YMCA Member Virginia Chavez overcomes her fear of swimming at the age of 75 at the YMCA. Virginia Chavez has been battling oesteo-arthritis for over 20-years, so at the urging of her husband, she became a member of the Ventura Y.  After one-year of consistently working out at the Y and attending classes, her mobility began to improve, including her mental health.
"The Y saved my life because I'm so old that I felt as if I had nothing else to learn.  So, I gave up on life " Virgina Chavez recalls.
At the age of 75, Virginia did not even consider learning how to swim when becoming a Y member. Like many people within the community, she came for the gym membership, not realizing that the Y offers more than just programs, but altruistic benefits that differ from a regular gym.
So she made a private swimming lesson reservation with the Ventura Y's swim instructor Cathy Bryant. Cathy's kindness and compassion gave Virginia the courage to enter the swimming pool.
"I am no longer terrified of the water or of swimming because of Cathy, and now I love to swim. And I love my life," Virginia Chavez.