Photo by Cindy Summers
On Jan.10, at 10:18pm the Ventura City Fire Department was dispatched to a report of a large commercial fishing vessel aground in the surf line in front of Woodstock Ln. Ventura. Upon arrival Ventura City Ocean Rescue personnel discovered 3 adult fishermen still on board. With waves crashing into the vessel and washing over the decks rescuers were able to safely remove all people from the vessel and bring them to the beach. None of the people on board the boat were injured.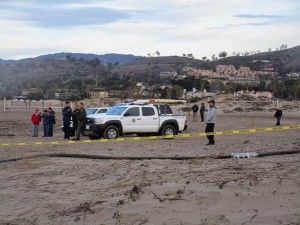 California State Parks, California Fish and Wildlife and the U.S. Coast Guard were notified of the incident and responded to the scene. Several hundred gallons of diesel fuel were reported to still be on board the boat. Salvage operations will begin as conditions allow.
Day Island boat beached on Pierpont beach in Ventura