Music students performed at Bell Arts and Sheridan Way School.
Students from the New West Symphony Harmony Project of Ventura County recently presented two concerts in Ventura.
On Dec. 10 they performed at Sheridan Way School, to a standing room only crowd. One-hundred students performed.
The second concert was on Dec. 12 at the Bell Arts Factory and featured 40 middle school students, mostly from De Anza Academy of Technology and the Arts.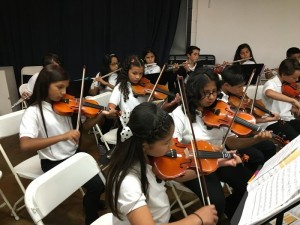 The New West Symphony Harmony Project provides after-school music instruction to 140 underserved third through eighth grade children in West Ventura. Due to great interest, there is a waiting list.
Funded largely through individual donations and community and foundation grants, the program was founded in 2011 by Ventura arts philanthropists Sandra and Jordan Laby.
New students entering the program begin in a Musicianship Class where they learn fundamental music skills with the use of recorders, recycled percussion instruments, and singing.  All students in the Musicianship Class learn to read music, improvise, and perform. After satisfying the beginning class requirements students transition to orchestral instruments. They learn band, string ensemble, Son Jarocho ensemble, chamber groups, and Jazz/Improvisation.
To learn more about the New West Symphony, and the Harmony Project of Ventura County, visit newwestsymphony.org.