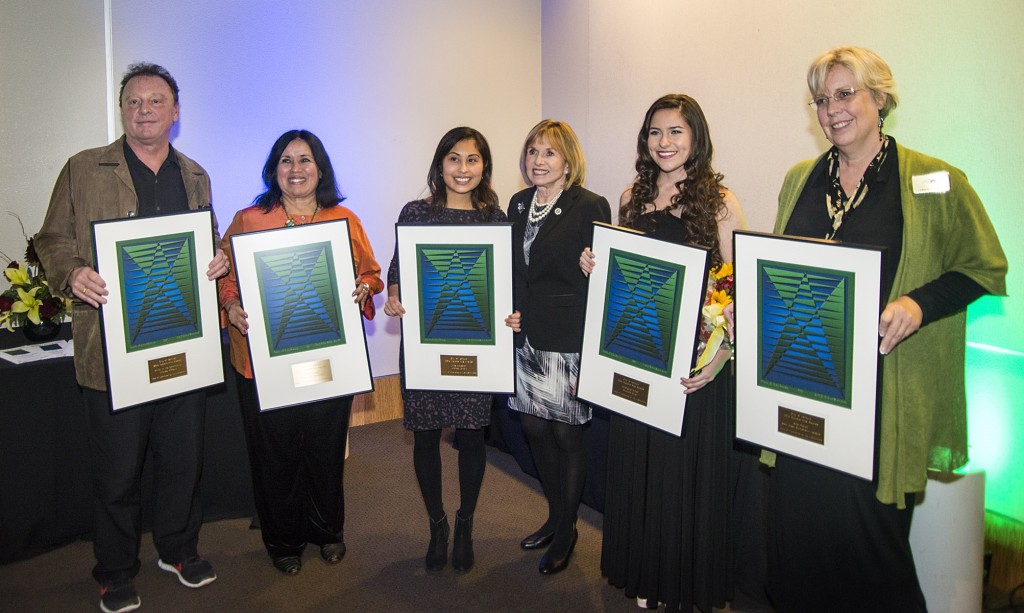 Michael O'Kelly , Anna Rios Bermudez, Andrea Landin, Mayor Cheryl Heitmann, Miranda Mize, and Leslie Luciani  , President representing the New West Symphony League were all smiles at the Mayor's Arts Awards.
Photo by John Ferritto
The eleventh annual Mayor's Arts Awards, held on Thursday, Nov. 5 at the Museum of Ventura County honored five of the top leaders, patrons, educators and artists dedicated to nurturing our city's lively arts community and vital cultural life.
Those honored were:
New West Symphony League – Arts Patrons
Michael O'Kelly – Artist in the Community
Andrea Landin – Arts Educator
Anna Rios Bermudez – Arts Leader
Miranda Mize – Emerging Artist
"These annual awards are an important tradition for everyone who loves the arts and Ventura," said Mayor Cheryl Heitmann. "They cultivate a greater visibility and understanding of the value of the arts to the public at large and are one small way to say 'well done' and 'thank you' to all participants in our creative community–for their contributions, their dedication and their passion to serve our city through the arts."
Music by Jill Martini Soiree and refreshments from Seasons Catering preceded presentations by Cultural Affairs Commission Chair Marie Lakin, Public Art Commission Chair Daniel Saltee, Ventura County Arts Council Executive Director Margaret Travers, Ventura Unified School District Board of Education President Debbie Golden and Associate Producer/Director of Education and Outreach for the Rubicon Theatre Company Brian McDonald.
Each honoree received "Mark of Excellence," a special edition work on paper created by artist Lis Schwitters.
The event is presented by the City Manager's Office and the Parks, Recreation and Community Partnerships Department.
A selection panel convened earlier this year to review nominations made by the public and to make recommendations forwarded to the Mayor and the City's Cultural Affairs Commission for their approval. They were Debbie Golden, Board of Education and Ventura Educational Partnership Board Member, Kathy Asher, Cultural Affairs Commissioner, Retired Assistant Superintendent of VUSD Schools, and Meredith Hart, Downtown Ventura Organization Project Manager.