On Sept.25, at 11:28pm Ventura City Fire Department responded to a traffic collision with a vehicle into a building at California south of Thompson with fire involved. Upon arrival, crews discovered a vehicle into an unoccupied retail occupancy. The driver and solo-occupant was out of the vehicle denying injury.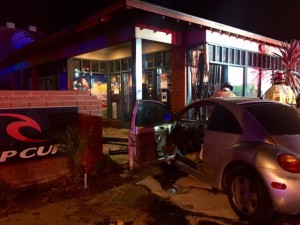 First arriving Firefighters quickly attacked the fire while others assessed the structural integrity of the building and forced entry to investigate for extension of the flames to the interior. The rapid knock down of the fire kept the flames from advancing into the unoccupied building. Positive pressure ventilation was used to evacuate smoke from the interior of the building.
Ventura Police Department provided traffic and scene control. This incident is under investigation by law enforcement.