by Jennifer Tipton
But first, a little history … "Top Hat Palace" is a little burger joint located at 2050 East Main Street that closed its doors in 2010 after 63 years of peddling hamburgers and hotdogs to our fair city. It has remained there, boarded up ever since …
Do you think Top Hat should be declared a historical building and should it remain there as part of the planned new development?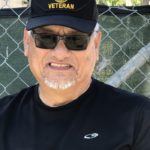 Vincent Mujica
age 70
retired IT specialist
"I think it could probably use a little upgrading, but it's been there for so long! People walk by and just know it's always been there and the food was good. My favorite was the burgers, I ate one every time I got a chance. I'd sneak over and grab one and my wife didn't even know!"
And after 50 years of marriage, now Sally knows …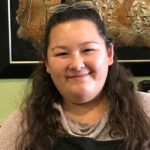 Kori Moriwaki
age 22
works at We Olive
"I do believe that it should be made a historical landmark, as it was one of the first post offices in Ventura. It should absolutely remain there as part of the new development. The building has been there as long as I can remember – as long as my parents can remember! Maybe they could make it into an information booth for downtown?"
Writer's note-can't find any information on Top Hat once being a post office … anyone out there know?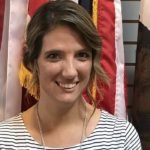 Ashley Latini
age 29
manager at American Flags & Cutlery
"That's a really tough question and here's why, I heard they're trying to put in a new development and Top Hat (that hasn't been open for years) is holding up the project, so it remains a vacant lot when it could be bringing in so much more revenue for the city!"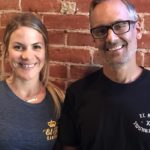 Heather Peckfelder age 33 and
John Lyon age 39
Both work at El Rey across the street from Top Hat
Heather remembers the day the Top Hat closed, "there was a line down the street and people were so sad! Now they want to put in a development with store fronts on the bottom and apartments on top, when it used to be a parking lot and that was perfect for downtown! But yes, it should remain there and be declared a historical landmark … did you know there was once a murder there and it was the first case where they used DNA evidence!"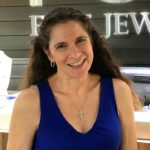 Debbie Fox
age 58
owner Fox Fine Jewelry downtown Ventura
"Our historic buildings are important, with wonderful memories. The Top Hat has a special place in the hearts of many. The option to move the Top Hat was opposed by Ventura's Historic Preservation Committee.  The public was invited to comment, but none was made.
Building proposals have been through years of design and redesign for the long vacant corner. The latest design still struggles to carve out the Top Hat. It's simply a fact: a large, corner property of shops and apartments can't do justice to the Top Hat memory. You get one or the other.
Is the decision that the Top Hat stay in the same exact location the view of the majority of Venturans? Or are we the silent majority who would be fine seeing the Top Hat in another location? No it should not stay there."
Writer's note: Please, if you have an opinion about Top Hat, take a moment and email your council members at council@cityofventura.net or write to us at opinions@venturabreeze.com. We'd love to hear your opinion!