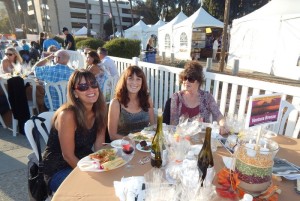 Breeze music writer Pam Baumgardner (venturarocks.com), Breeze co-founder Staci Brown and Diane who lives with the Breeze publisher (poor lady) enjoying Pier Under the Stars—the annual benefit for the historic Ventura Pier that was held on Saturday, October 3 under an absolutely beautiful Ventura evening.
Restaurants, cafes, wineries and breweries served their signature dishes and beverages from tented booths along the seaside Promenade while guests enjoyed live music by Caliente while dancing and bidding on silent auction items, all to benefit the city's 139-year-old pier.
The sell-out event hosted by Pier into the Future–-a non-profit 501 c (3)—"is a much anticipated community gathering of friends that raises funds for our beloved Pier", said Pier Into the Future Executive Director Jenise Wagar.