John Preston, Mayor Matt LaVere and Shawn Hughes raising awareness of PTSD.
by Richard Lieberman
On a recent Friday, John Preston, a Palo Alto firefighter was in Ventura walking to raise awareness about PTSD and suicide among first responders and veterans. Preston was supported by Ventura firefighters that joined him for the Ventura part of his twenty-two miles a day trek.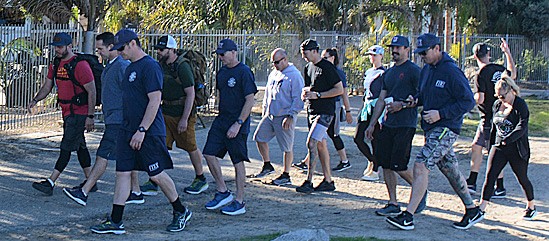 Shawn Hughes, president of Ventura City Firefighters helped lead Ventura firefighters on the walk through the city from Main Street to Johnson Drive where Oxnard firefighters took over and continued the walk to Point Magu. The march will cover over five hundred miles of California coasts.
"My intention is to stop suicide; I lost my brother to suicide in 2016" Said Preston. "He was a both a marine veteran and a police officer for 20 years" added Preston. "I saw the toll it took on my family, and I wanted to prevent this from happening to anyone else." He said. The march will last for thirty days but has taken a physical toll on Preston. "My feet are shredded to pieces right now." He said. "Post Traumatic Stress is a very real thing in our community it happens in our veteran community, it happens in the police, and it happens in the first responder community" Added Preston. "We want to be able to recognize that it is a problem and getting people to start asking for help." He said. "My journey on this, I have carried a pack weighing 22 kilos for nineteen days and I physically broke. I was unable to stubbornly put down my pack and ask for help." Said Preston. "This was a giant symbolism why my brother took his own life." He added.
Mayor LaVere commented "I think it is amazing, and when I heard it was coming to town, I cancelled all my meetings to be here to support this guy." Said LaVere. "I know the pressure our men and women in public safety face what they have to see, and I can only imagine that internal burden and a lot of time people just don't see it. None of us know what they experience on a day to day basis." He added. "When you hear about all these suicides of first responders and our veterans it is a crisis and really glad he is bringing light to these issues."
PTSD- Post-traumatic stress disorder is a mental health condition that's triggered by a terrifying event — either experiencing it or witnessing it. Symptoms may include flashbacks, nightmares and severe anxiety, as well as uncontrollable thoughts about the event.