Ventura Deputy Mayor Matt La Vere spoke on behalf of the City Council. Photos by Michael Gordon
A ribbon cutting was held for Project Understanding Tutoring Center located at Portola Elementary School, 6700 Eagle St.
The Tutoring Centers at Project Understanding provide extra instruction for students grades K-5 with volunteer tutors in one-to-one interaction.  Students are recommended by their instructors.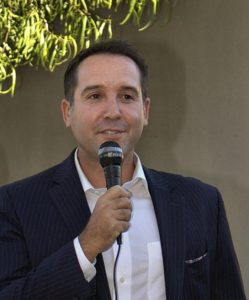 Project Understanding currently has 11 tutoring centers throughout Ventura County, in El Rio, Oxnard, Santa Paula, Saticoy and Ventura. There are many students, Kindergarten – 5th grade, in need of assistance with their school work.
At the ribbon cutting Deputy Mayor Matt LaVere stated "Many people know the good work that Project Understanding has been doing in our community for over 40 years. They have helped hundreds of individuals go from homeless to housed, and have kept thousands from becoming homeless because of their food pantry. However, what many people don't know is the incredible work Project Understanding does with our local youth. With the opening of the Portolo Elementary School tutoring center, Project Understanding now has 12 tutoring locations, providing free tutoring services to students throughout our community. Education is the critical key to breaking the cycle of poverty, and through its tutoring centers, Project Understanding is working to ensure Ventura's youth have all of their educational needs met."