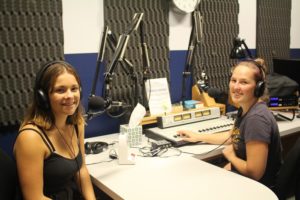 by Elizabeth Rodeno
El Camino High School students are continuing their weekly program with a host of stories covering issues that mean so much to them. Their bi-lingual show is covering many issues important to the Spanish speaking community and sharing culture and history. Other shows the young producers are lining up include an arts focused show at Art City and a series of music shows with performances and interviews. They are also on the radio producing up a storm. Stay tuned.
The Ventura Police Community Foundation Heroes Among Us Gala featuring a CAPS produced tribute video was a great success. The successful event honored heroic community members.
As the one-year anniversary of the Thomas Fire and the incoming holiday season, the calendar is getting packed full of events to honor and support our community. We are honored to be able to be part of the story by letting the community share their stories. The Museum will be hosting events as will other venues including Libbey Park in Ojai. Sheldon and The Breeze will help keep you in the know.
Don't forget we continue to air the Thomas Fire Stories project every Friday at 6pm on CAPS Channel 6. CAPS Radio – KPPQ-LP is broadcasting them regularly on 104.1fm and on the myTuner app available on your phone and smart speaker. Tune in Thursdays at 5:30pm on KCSB 91.1fm in Santa Barbara to hear them too.
There is much more to hear on KPPQ. Our talented hosts bring the city to life and share knowledge about local and world affairs. Tune in and be surprised by your community programming. There is something for everybody. Come be part of it and share the voices of the community.
Do you have an upcoming event? Would you like people to learn more about your organization? Use CAPS Media and CAPS radio to be part of your media plan. Send in your print ad to post on our television bulletin board. Do you have copy for a Public Service Announcement to air on KPPQ? There are many ways we can support your organization. Please contact us at info@capsmedia.org or call us at 806-6568-0500.
Community Member engagement is CAPS Media Center mission. We are here to support members in creating an informed and educated community through electronic media. Both our television channels and radio are venues to share stories and ideas with the community. Become a member, take the Orientation, enroll in classes and create powerful and entertaining media to share with us.
Orientation classes for media makers are held the first Thursday of every month. Go to capsmedia.org for more information.