Photos by Bernie Goldstein
On Nov, 3, from 5-7 pm a Candlelight Vigil for Victims of Hate was held at Mission Park.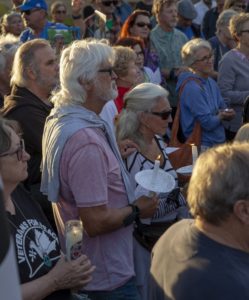 The Vigil was held by Indivisible Ventura, one of 6,000 grassroots Indivisible groups across the country.
Music and speeches calling for understanding and peace were presented to the very enthusiastic crowd.
Those attending were inspired by Martin Luther King who said that "Darkness cannot drive out darkness, only light can do that. Hate cannot drive out hate; only love can do that."