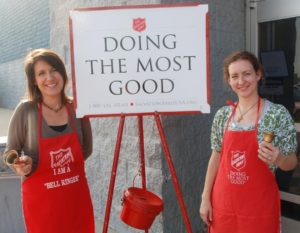 The Salvation Army of Ventura is currently recruiting volunteers to serve as Bell Ringers this holiday season! Shifts are 2 hours long and anyone can participate! We love to have families, kids, groups…anyone at all…volunteer for this program.
It takes a lot of people to make this effort a success, so please join us!
Volunteers are the difference between an empty kettle and one that raises about $30 per hour – enough to provide a family with two bags of groceries. 
For more information please contact Lt. Silvia Simoes at 310-308-0691.