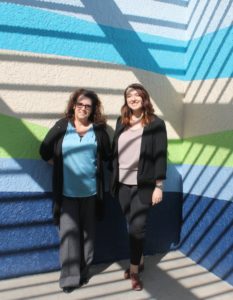 by Jennifer Tipton
While the official grand reopening date remains to be announced, as of October 16th, Vista Del Mar began admitting patients. 55 of the previous 87 beds are now available after much hard work from the dedicated staff, the fire department and Armstrong Construction who I'm told, worked so well with other community individuals along with OSHPD (Office of Statewide Planning and Development).
Its taken ten months since the Thomas Fire took much of the private psychiatric hospital from where it has stood at the top of Seneca Street since 2001. Delays were with the infrastructure, a new water pump and issues requiring lots of testing that often led to other problems and further repairs. Two modular buildings have been added for administration and three of the preexisting buildings have been updated because hospital vacancy offered an opportunity to do so. Two large barren lots stand as a reminder of the fire's devastation. Plans are to eventually rebuild, "we want to restore the beds we lost", said Jetta Zellner, Director of Clinical Services.
Vista Del Mar is a private psychiatric hospital that takes private insurance, although some do pay out of pocket.
The timing for bed availability couldn't be better because at this time of year, suicide risk is more prevalent among adolescents due to school stressors, grades, peer pressure etc… Although beds are assigned to fit the population's needs, adolescents are separated from the other patients.
In addition to the upgrades, a new program has been implemented called "Expressive Therapy" headed by Victoria Troshina a licensed art therapist. Victoria has worked for Vista Del Mar since 2016 and although there was a recreational therapy department in place before the Thomas Fire, she is "revamping the whole program". She said that it's more structural now, "we never did themes before, we just followed a curriculum and social services followed their curriculum, but now we're on the same page".
The themes will focus on the phases of care – the crisis phase and the treatment phase. Every day will be a different theme such as identifying triggers, managing thoughts and feelings or boundaries in relationships.
Victoria does an assessment on each patient within the first 24 hours of their admission to determine what recreational activities they enjoy that help them cope. She looks for anything expressive, do they like to walk, paint, read or is it music that would be effective while they're there? According to Jetta, "not everybody learns in the same way, expressive therapy is a different approach to treatment, it can be visual, verbal or hands on, it definitely helps with patient recovery".
"A lot of kids say they play the piano, so I'll bring the electric keyboard", Victoria smiled, "I try to identify with what they enjoy". "And some ask for the guitar", added Jetta, "we have a military program and a lot of our military love to play guitar". Victoria reports they have a lot of musical instruments and in fact, she had just purchased a brand-new guitar.
Art is another very effective tool and an alternative to verbal communication. "One of the things I've noticed is we get a lot of nonverbal, gravely disabled individuals who are in a traumatic state and they're afraid", Victoria said, "I'll sit next to them and do a soft scribble on a piece of paper with a crayon and pass it to them, it's a way to engage in nonverbal communication, it's a very scary place when you can't express yourself".
Victoria emphasized that there is such a high expectation of what artwork should look like, "we forget it's the process, not the product, we call it mark making, not art making". With patient's consent, some artwork gets displayed but sadly, "old artwork was lost in the fire".
The staff and their patients aren't the only ones that have returned to the top of Seneca Street, a family of deer have returned as well. Jetta shares," they're back! They love the figs and berries off the trees". The location and surroundings of Vista Del Mar must certainly enhance the treatment process…