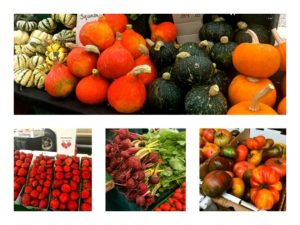 Sustainability Now News
by Maryann Ridini Spencer
The popular phrase "farm to table" literally refers to fresh produce — fruits and vegetables — that are picked straight from the field (or farm) and delivered to your table vs. having to be preserved or frozen and shipped long distances to reach your grocer and ultimately your table.
Not only is farm to table produce more flavorful and fresh, the dollars you spend close to home help local businesses. It's estimated that the food purchased in grocery stores has to travel an average of 1,500 miles. The reduced travel distance required when you buy from local markets helps curb the consumption of fossil fuels used in transport making it a win-win for the environment as well as local farmers and retailers.
In Ventura County, we're incredibly fortunate to have access to abundant, fresh, locally grown produce year round. One of the best ways to purchase this local bounty is at Certified Farmers' Markets. On Saturday mornings from 8:30 am to Noon the Downtown Ventura Certified Farmers' Market at 305 E. Santa Clara Street offers the community a delicious array of locally produced fresh fruits, vegetables, cut flowers, and other tantalizing items all at the peak of the season.
Talk to your local farmer
Have you ever wondered how your food is produced? Do the farmers use organic farming practices? What are (if any) the chemicals utilized? Don't hesitate to get to know your local farmers and talk to them about their farming practices. You'll also discover excellent cooking tips and learn their favorite recipes.
"For winter, we have a lot of citruses," said Ed Etheridge from Etheridge Farm Organics at a recent Downtown Ventura Certified Farmers' Market. "Fukumoto navel oranges, mandarins, and tangerines are abundant. We also have apples, kiwi, and Fuyu persimmons (a round fruit), which you can eat like an apple. Our Hachiya persimmons taste great when they get somewhat pudding-like; otherwise, they're very astringent. You can also freeze them and when you're ready to serve, eat them with a spoon as you would a bowl of sorbet."
Some other local regulars you'll find this time of year at the Downtown market include Oxnard's Rodriguez Family Farms, which sells only strawberries that they pick fresh the morning of each market.
"We've been organic farming since the mid-80's," said Eric from Tutti Frutti Farms. "We specialized in all varieties of heirloom tomatoes. The Cherokee Purple tomato has a savory taste, and Marvel Stripe has a super sweet tropical flavor. This time of year, we also produce all types of peppers and squash."
During winter months the McGrath Family Farms display offers an array of gorgeous radishes, winter beets, winter squashes, and a variety of leafy greens and more.
During a visit, you might also want to stop in and get a free sample of some pure, natural, raw honey from Blue Ridge Honey.
Once you visit the local Downtown Certified Farmers' Market, you'll be sure to find what you're looking for — and more, so make sure you bring your reusable totes.
Here are a few of in season produce for winter:
Artichokes, beets, corn, eggplant, kumquats, lemons, lettuce and strawberries.
Visit, vccfarmersmarkets.com and for a what's in season guide sfma.net/consumer/inseason.shtml.