A $3,000 check was presented by the Rotary Club of Ventura for the eye clinic.
Even though open for several months the community free Eye Clinic held a Chamber ribbon-cutting on Friday, Sept. 28, at the Salvation Army living center located at 155 S Oak St.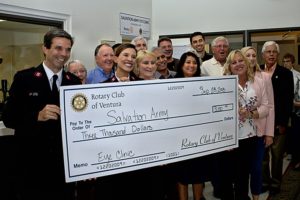 In attendance were Ventura Chamber members, friends, members of the Ventura Rotary Club, Ventura Downtown Lions Club and the Salvation Army of Ventura, the 3 groups that have partnered to bring the community a free Eye Clinic. Their goal and vision is to provide free eye glasses for those in need. Patients are seen each Thursday from 7:30- 9:30 except holidays. Walk-Ins are welcomed as well, just arrive early and ring the bell!
Photos by Michael Gordon