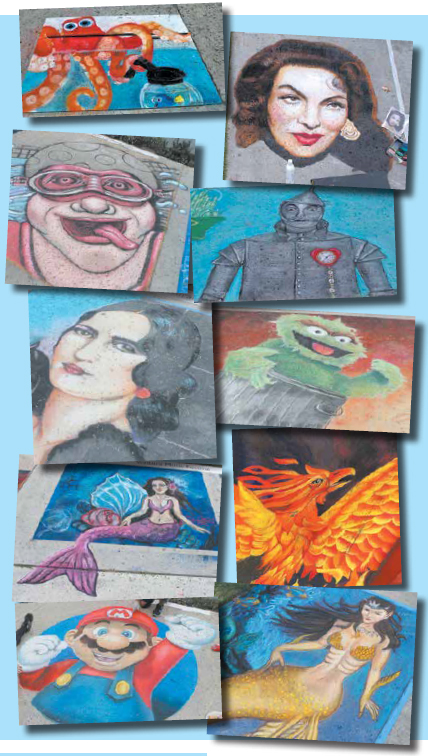 The Ventura Art & Street Painting Festival took place Sept.8th and 9th at the Ventura Harbor Village this year. The skies were gray, but the sidewalks became a quilt of color as forty street painters got busy applying layers of chalk pastel to the ground. Many of the street painters traveled from various cities in Southern California to participate and many know one another from other festivals. These talented individuals donate their time to help support local festivals. Some of them are professional artists, but others have jobs and indulge their passion for their art on the weekends.
As the chalk artists began creating vibrant chalk murals Saturday morning on the harbor sidewalks, thirty-five artists were setting up their booths in preparation for the visitors' arrival. Original artwork was available for purchase in the artists' area, including paintings, sculptures, woodwork and pottery.
Ventura County's original street painting event celebrated its 10th anniversary this year. Started in 2009, with twenty artists and some music in a downtown park, the festival added street painting in 2011 with just a few artists. Founder Barbara Hinton had the idea to add chalk art, but didn't know anyone who practiced the art form. It was a chance conversation with another friend who ran a local festival that led to her meeting some chalk artists. An artist had contacted Hinton's friend about doing a commissioned chalk mural. The friend then referred the individual to Hinton. The rest as they say is history. Hinton says that they had about 11 chalk artists the first year.
The festival also hosts a children's chalk area so that kids visiting the festival were also able to create art on the sidewalk in the Children's Chalk Area, run by local non-profit group Kids' Arts, Inc.
For the second year in a row, the festival welcomed two world-renowned chalk artists. Ventura resident Tracy Lee Stum, an internationally recognized American street painter and author of "The Art of Chalk", and Rod Tryon, a Santa Barbara resident who has been street painting for 30 years and has been featured in numerous events in the U.S. and abroad.
Stum, who was the official artist for the US House at the 2010 Winter Olympics, is also known for her chalk artwork at the Super Bowl XLIX game. She recently created an original street painting for Katy Perry's Witness World Wide 2017 livestream.
"For me, street painting is absolutely the most joyful form of creative expression I have engaged in," says Stum. "An event like the Ventura Art and Street Painting Festival is so important because it keeps art alive in our community."
This festival is hosted by Ventura County Art Events, Inc. and is a fundraiser for FOOD Share of Ventura County and Kids Arts Inc.