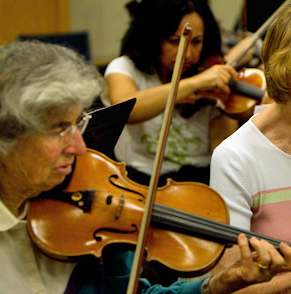 Ventura College Foundation, which provides financial support to students and programs of Ventura College, received $12 million from the estate of Miriam Schwab. It is the largest gift ever to a community college in Southern California according to The Chronicle of Philanthropy Gift Database.
Schwab, who passed away December 24, 2017 at age 89, was a local philanthropist and long-time Ventura College supporter. She was also a music lover. She played the violin with the Ventura College Symphony Orchestra for over a decade and started the Henry Schwab Violin Competition, named after her late husband, 11 years ago.
"We are grateful for Miriam for her long-time support of Ventura College and her generous donation," says Anne Paul King, Ventura College Foundation executive director. "Miriam understood the power of education and the arts. The Ventura College Foundation receives most of its donations from individuals who see their gift as a way to help students achieve their educational goals that will set them on a path to be successful in life. Her legacy will continue at the college for decades to come."
Eighty-five percent of Schwab's gift will go to the Ventura College Instrumental Music Program including funding for a permanent violin and viola competition, a sustainable year-round symphony orchestra and the creation of a Summer Music Institute of Instrumental Music.
While schools are cutting music from their curriculum, Ventura College, through Schwab's donation, will be enhancing its program, making it one of the premiere community colleges for music education in all of California.
"Miriam was a very determined, sweet person with a vision," says Robert Lawson, Ventura College music chair and symphony conductor. Lawson knew Schwab for more than 25 years, but their working relationship grew once the violin and viola competition was created. "Her passion was for students to learn instrumental music, particularly string instruments. The creation of the Summer Institute of Instrumental Music will ensure high performance levels are maintained during the summer that will carry forward throughout the fall and spring academic year. Her gift will enable us to provide better instruction and more opportunities for beginning, intermediate and advanced training."
Fifteen percent of Schwab's gift will go to support the Ventura College Aquatics Program. "This gift will go a long way to build and enhance aquatics opportunities for Ventura College students," says Dr. Damon Bell, president of Ventura College. "It is a wonderful surprise to receive this additional support. We're honored that Miriam chose Ventura College."
Over the coming months, the Ventura College leadership team will implement a specific plan for the use of the gift that will honor Schwab's wishes to support the college's Aquatic Programs and students.
To celebrate further Schwab's life and commitment to the college, the Ventura College Symphony Orchestra will kick off its season Saturday, October 13 at 7:30 p.m. with a memoriam concert. Tickets are free on a first come, first served reservation basis and are available at www.VCgiving.org. The entire concert season will be held in her honor with additional celebrations throughout the year.
For more about the Ventura College Foundation, go to www.VCgiving.org, or call 805-289-6461.
The Foundation also hosts the Ventura College Foundation Marketplace, an outdoor shopping experience held every weekend on the Ventura College campus east parking lot.