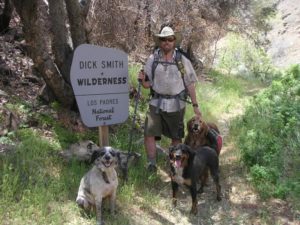 Craig R. Carey and Bryan Conant, two wanderers of our local hills, valleys and forests are teaming up with the Ventura Land Trust for a fast-paced, informative and often hilarious lecture "Amazing Backcountry Adventures" highlighting their outdoor adventures at 7pm Thursday, Sept. 13 at the Poinsettia Pavilion, 3451 Foothill Rd.
"Amazing Backcountry Adventures" features outdoor author Craig R. Carey and Bryan Conant, cartographer and director of Los Padres Forest Association (LPFA), sharing adventurous tales gathered from more than 60 combined years of hiking in our local backcountry. They have experienced mountain lion encounters "as cool as you please," close encounters with backcountry raptors, being stuck in a tent for 14 hours awaiting better weather, to-die-for sunrises and sunsets, miles of mapping trails with only canines for company and working to create the proposed Condor Trail.
Carey credits his kids for bolstering his passion for the great outdoors because, "they allow me to view the wilderness and its gifts through fresh eyes and remind me to not see it as a project, but rather as a refuge and a place full of wonder." Carey shares that passion by taking youth outdoors, many of whom have never been on a trail. His book, Hiking and Backpacking Santa Barbara and Ventura, has been updated with GPS coordinates designed to help hikers customize their own adventure.
After taking years to create updated maps of the Matilija, Dick Smith and San Rafael wilderness areas, Conant became the executive director of the LPFA, the official non-profit partner of the U.S. Los Padres National Forest whose focus is to educate forest-users and ensure the Los Padres stays open for people to enjoy.
Conant started his "love affair" with our local backcountry after some friends took him to the swimming holes at Red Rock in Santa Barbara County. Realizing existing maps of the local wilderness areas were not good enough; he decided to create his own. "It was the perfect opportunity to blend two of my passions: backpacking and cartography," he said in an interview.
The community lecture, Ventura Land Trust's third installment in their 2018 Environmental Speaker Series, is one of many ways VLT works to educate the public about important environmental topics. A suggested donation of $10 per person will be collected at the door to go toward fire restoration work at Big Rock Preserve.
Reservations are highly encouraged. RSVP at: www.venturalandtrust.org/events
The Ventura Land Trust (formerly the Ventura Hillsides Conservancy) is dedicated to permanently preserving and protecting the land, water, wildlife and scenic beauty of the Ventura region for current and future generations. Founded in 2003, the 501(C)(3) non-profit organization is supported by over 600 members, local businesses and government partners. The land trust manages 90 acres of land along the Ventura River and is negotiating the purchase of its first hillside property. VLT's office is located in the Poinsettia Pavilion, 3451 Foothill Rd, Ventura, CA 93003. For more information, visit:
Bryan Conant has devoted much of his life to exploring, learning and protecting the Los Padres Forest since the 1990s.  During that time, he created two trail maps of the Los Padres National Forest within Santa Barbara and Ventura counties and worked to develop a non-profit focused on promoting the 421-mile Condor Trail (Lake Piru to Monterey). More info at: www.condortrail.com. He is currently Executive Director of the Los Padres Forest Association focusing much of his time on providing education for forest users and working to keep the trails open. Go to: www.LPFA.org
Craig R. Carey gives credit for his backcountry roots to his parents, "college sweethearts in the Bruins Mountaineering Club" who strapped him onto a Kelty pack when he was only 6 years old. He's still doing it as an LPFA Volunteer Wilderness Ranger, active Scouter, and author of Hiking & Backpacking Santa Barbara and Ventura (Wilderness Press, 2012). You can read his idle musings at: www.CraigRCarey.net