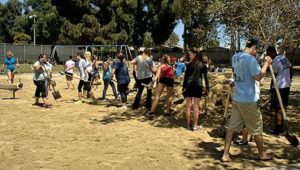 On Tuesday, August 28, approximately 650 incoming California Lutheran University students worked to help the hills above Ventura recover from the Thomas Fire as part of a partnership with the City of Ventura that began over 10 years ago. The incoming freshmen class will remove bottles and other trash exposed by the fire and spread mulch around surviving plants in the Ventura Botanical Gardens, Serra Cross Park and other areas of Grant Park. The benefits of mulching include reducing surface erosion, absorbing rainfall, reducing downstream runoff, protecting seed banks, providing favorable moisture and temperature for seed germination and suppression of non-native weeds.
The students are participating in "You Got Served" during New Student Orientation. It is the university's largest service-learning project in terms of student participants. Cal Lutheran's Community Service Center has worked with the City Volunteer Ventura office on the annual program since 2008. The partnership allows all the incoming students to work together on a single project that introduces them to Cal Lutheran's commitment to service and justice and connects them with the local community in a meaningful way. Cal Lutheran President Chris Kimball and other faculty and staff members worked alongside the students.
During the last nine years of the program, Cal Lutheran's students and city staff have
assisted with the restoration efforts in the Ventura and Santa Clara Riverbeds, removing arundo and more than 64 cumulative tons of trash and debris and carefully removed invasive ice plant in the Ventura Harbor Wetlands Ecological  Reserve .
Grant Park is currently closed to the public to ensure safe conditions for park users and repair damage due to the Thomas Fire