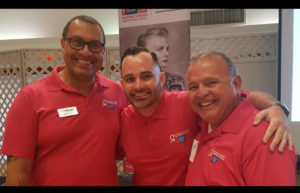 An open house reception was held at the Four Points Sheraton Ventura on Thursday, August 9th for this year's Kickoff Celebration "Younited For a Cure". The evening's festivities included pink themed appetizers, raffle prizes, socializing, and informational speakers.
Event Chair Brenda Dearborn opened with the event overview, followed by Kickoff Chair Kerri Berntsen with sponsor thank yous going out to the National Presenting Sponsor, Avon, 2018 Presenting Sponsor UCLA Health, the National Survivor Ambassador Zeta Tau Alpha, as well as to our Platinum Sponsors, $2,500 Sponsors, and Media Sponsors. A very special thanks, along with an award of appreciation, was given to Tim and Kathy Mayeda with the U.S. Bowling Congress for 10 years of support in the fight against breast cancer.
Guest speakers included Camilla Conaway with Avon; Becky Fielder, Making Strides Survivor Tent Chair and 5 year Breast Cancer Survivor; and Bill Harris of Thousand Oaks, who spoke of his own battle with breast cancer and breast cancer survivorship.
Matthew Shrope spoke about where the money raised by Making Strides is used within Ventura County. He then introduced one of the highlights of the evening, the Three Pink Musketeers: Dr. Ronald Atanay, DDS, Josh Damigo and Paul Hardy. Dr. Atanay led the audience in a chant of "All for One, and One for All!" They were joined on stage by Dr. Shawn Steen and Oxnard Police Department Sargent Jeff McGreevy. These dedicated men have each committed to wearing the color Pink every day in October and raise $2,500+ for the Real Men Wear Pink campaign.
Bernie Glenn and Tammy Bauer spoke of their experiences with the American Cancer Society's Cancer Action NetworkSM (ACS CAN) and the importance of lobbying for critically needed funding for programs and cancer research. Ric Maddox, ACS Community Development Manager, closed out the presentation with information about signing up as a team leader, Social Media, the fundraising app, and event info.
The Making Strides Against Breast Cancer 5K walk will be held on Saturday, October 6, 2018 at Harbor Cove Beach, 1878 Spinnaker Dr. Registration begins at 7:30 am and the walk is at 9:00 am. Sign up your team at makingstrideswalk.org/Ventura and walk with us!