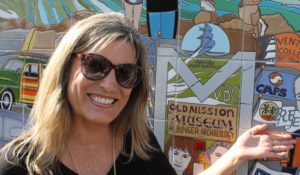 by Elizabeth Rodeno
Over the next few weeks CAPS Media will work with city officials and election organizations throughout the community to encourage voter participation, provide voter information on ballot initiatives and help explain the district election process for electing City Council members and Ventura Unified School board members.
CAPS will offer candidates the chance to share their campaign platforms with the community via our Video Voter program. CAPS has been producing Video Voter for over 10 years and we continue to fulfill for mission to create an informed and educated community through electronic media
The candidate statements for Ventura City Council and VUSD board will be recorded and broadcast on CAPS Channel 6 and streaming online at capsmedia.org. CAPS Media continues its coverage of various candidate forums held by the League of Women throughout the city. CAPS Media is also producing informative videos for the County of Ventura on election related issues.  Look for us out in the community in our big white truck with CAPS Media on the side and our enthusiastic volunteers and students bringing all of this to the community. The programs will be found on Channel 6 in the City of Ventura and online at capsmedia.org.
For details on the City district elections go to the City of Ventura website for comprehensive information at cityofventura.gov. For information on the new school district areas go to VenturaUSD.org. Log in to the County of Ventura's website and go to the County Clerk's webpage for all the information on how the election process works and to register to vote.
The award winning ECTV program, the collaboration between CAPS Media and El Camino High School, returns for its 3rd year.
Former students have honed their skills with many off to college, pursuing their dreams. Returning and new students are looking forward to exploring new issues, meeting interesting people and using their skills to create thoughtful and engaging video journalism. Last year ECTV featured stories about The Thomas Fires, the Peace Corp, Chicano music, filmmakers and women's rights to name a few. We can't wait to see what topics they discuss this year.
CAPS is proud to be part of Michael O'Kelly's mural beautifully crafted with glazed tile. It's great to see all the folks, locations, businesses and organizations included in this work of love to the community of Ventura. Planning began in 2015 and it was unveiled earlier this year. If you haven't seen it, it's worth a visit. It's just outside the mission on Main Street. What a great addition to city of Ventura and big thanks to the city and community members who made it happen.
View our ongoing series Thomas Fire Story projects every Friday at 6pm, get your election information on Channel 6 and get orientation and training class information on CAPSMedia.org. Get engaged, share your story on TV or Radio and become a member of CAPS Media Center.