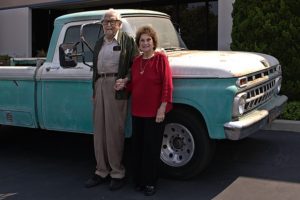 by Karen Leslie, writer with heart
Adventure, meeting people from all walks of life, thrilling experiences, weaves a tapestry of memories that last a lifetime and when held in the mind and heart, become priceless beyond monetary value.
From Oklahoma, Sedona to California, Richard Keller and Elaine Keller, enthusiastic spirited travelers, humanitarians and dream catchers walked the-red-path as generous souls. From a one room school house to collectible cars, these land rovers and skydiving enthusiast, engineered their way across the country, leaving their footprints and love onto the world. These lives well lived in a century with all its spurts of growth, from the dust bowl to route 66, solo flights and with outstanding achievements, these second half of lifers left no cliff hangers!
The first 21 years of Richard Keller's life was spent on a farm in the 20th century which modestly boasted kerosene wick lights, a wood coal burning heater, rain water pumped by hand out of a cistern and a two stall wood out-house. The one room wood structure school house was 2 miles away. Richard shares, "To get to school I walked, took a horse and buggy or rode a horse. There were no sports or special classes only three basic academic fields; Reading, Writing and Arithmetic. Grades 9-11, I drove a $10.00 model-T and in 12th grade drove a 6 cylinder rumble seat Chevrolet Roaster and tractor gasoline was .05/gal."
A world away, a half Cherokee Indian girl, born on a reservation in Oklahoma, Elaine's life path was of a different nature. She shares, "As a child I would lie on my back in the grass and watch the clouds change, the birds soar and dive in an ethereal ballet. We lived totally off the land, hung out in the wild and medicine was made up of berries, roots and leaves. My mother and grandmother made clothes out of beautifully patterned sugar and flour sacks. I had a wonderful childhood!" While Elaine made her first solo flight in a Piper Cub at 17, companion to Jane Russell, member US Power and Sail Squadron's and first female Squadron and District Commander, fearlessly skydiving on her 70thbirthday, little did she know her adventures and achievements would lead to Richard, "Her Miracle Man!"
In 1938 Richard migrated from Oklahoma on a Harley Davidson down route 66 to San Jacinto. Richard shares, "At the California border I needed to prove a destination and sufficient money to obtain a card permitting me to be in California. 1939 I was employed at Lockheed as design engineer when hourly wage was $.45. A USAAF-2nd L.T. B-25 pilot, I trained for the proposed invasion of Japan then attended Chounard Art Institute." The next rung on the ladder of Richard's life was in 1953 at William R. Whitaker Corp, Hollywood, California where he designed 24 volt actuators to operate aircraft valves on the Apollo. After 45 years widowed from first wife Lupe Peinado, Richard met Elaine and love graced his path again. Richard retired in 1982 from ABEX Corps, Oxnard. Years later Richard and Elaine married in 1995 in Sedona, Arizona. Residing in Ventura in their 23rd year of marriage, these love birds continue to look to the future! Elaine shares, "I look forward to zip lining the Grand Canyon on my 100th birthday!" Richard, humanitarian quotes, "On the ladder of life, I have climbed a number of feet up, by having successful accomplishments, beautiful memories of my contacts with human beings, fortunate to find love again and my many years of employment that was enjoyable, motivating and most important creative." Longevity be your!