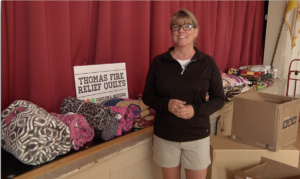 CAPS Media's Thomas Fire Stories project continues to record captivating first-person personal accounts with the public and first responders. This month Kat Merrick, Captain John McNeil and Trevor Quirk add their experiences to the series. On Friday, August 17 Kat Merrick shares a remarkably moving story of her fight to save her Wicked Wire Ranch, which is her personal home and the center of her Totally Local VC grassroots agriculture, art and music support organization. Equally engaging is Kat's story of virtually overnight launching a massive community outreach program connecting hundreds of Thomas Fire victims with agencies and individuals who wanted to help. The following Friday, August 24, Ventura County Fire Chief John McNeil add his unique perspective to the archive. And on August 31, Trevor Quirk tells his fascinating story of fighting the fire on his ranch, rescuing neighbors all night long and then helping create the Upper Ojai Relief Organization to bring resources and help to victims throughout the isolated community.
A new Thomas Fire Story premieres every Friday evening at 6pm on CAPS Media Channel 6 and streams online at capsmedia.org and on CAPS Radio 104.1PM. Following the premiere every Thomas Fire Story repeats throughout the week and is posted online at capsmedia.org/videos.
The Museum of Ventura County is archiving all of the Thomas Fire Stories interviews along with additional historical artifacts. Selected material will be included in a special exhibit at the end of the year. Portions of the Thomas Fire Story interviews will be included in a comprehensive documentary film also slated to premiere in December.
The start of the new school year is a great time to take a tour of the CAPS Media Center and consider joining the CAPS Media creative community. No prior experience is required and everyone is invited to join. Anyone who lives, works or attends school in the city of Ventura is eligible to become a member as are members of non-profit organizations throughout the county. To learn more about CAPS Media's extensive television and radio resources and training attend an orientation tour held on the first Thursday of every month. HD videography/camera classes are held on the 2nd Thursday, Final Cut postproduction editing class is on the 3rd Thursday, and CAPS Radio (KPPQ, FM 104.1) two-part classes are on the 4th week. Member/Producers receive hands-on instruction in videography, video editing, radio production and more. All classes begin at 6pm at the CAPS Media Center, 65 Day Road.
November elections are only a few months away and CAPS Media will help provide information and resources for voters. This year, for the first time, ballots will include district elections for members of the Ventura City Council and Ventura Unified School Board. For details on the City district elections go to the City of Ventura website for comprehensive information at https://www.cityofventura.ca.gov/1222/District-Based-Elections
CAPS Media's mission is to create an engaged and informed community through participation in electronic media. For more information, go to capsmedia.org or call 805.658.0500.