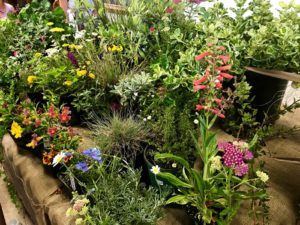 by Maryann Ridini Spencer (@MaryannRidiniSpencer)
"When most people think of a stunning landscape, they tend to think of expansive, sprawling green lawns. However, these types of landscapes also consume a lot of water, negatively impacting our low reserves during the ongoing drought," said Cari Vega, owner of A Smart Garden in Downtown Ventura. Vega taught the well-attended July 14th free gardening class, "Plant Selection for Water Wise Landscapes," presented in partnership with Ventura Water.
"Our city falls into the Mediterranean climate and enjoys a similar eco-climate to the West Coasts of Australia, Europe, the West tip of South Africa, and the West Coast of Chile," continued Vega. "We're fortunate that the variety of low-water Mediterranean and California native-plants that thrive in this environment offer quite a beautiful, bold and lush color palette."
During the class, Vega stressed that one of the first things a homeowner should identify is their yard's soil type. "In Ventura, we've got clay, sand or the ideal loam," said Vega. "What works in mid-town Ventura, might not work closer to the ocean. Knowing what kind of soil you're working with will help you determine the best plants to use and may even influence design elements in the garden like raised beds."
Vega suggested that homeowners study up on the many varieties of low-water plants and "what plant goes where" at VenturaCountyGardening.com, talk to a local landscape design professional.
Vega stresses creating a plan starting with the tallest planting — trees, followed by shrubs, perennials, and ground cover to ensure proper spacing so that the landscape can thrive.
To help direct water where it will be of most use, Vega suggests digging a small trench around the perimeter of the landscape as well as digging 4" trenches around trees and filling them with mulch.
Some suggested low-water trees that work well in Ventura: Peppermint Willow, Pink Melaleuca, Australian Willow, and Pink Mimosa.
Examples of low-water shrubs that provide a colorful backdrop include Texas Ranger, Neon Pink Callistemon, Pink Breath of Heaven, Buddleia, Protea & Grevillea.
Perennials: "Dusty Miller is a member of the daisy family and has silvery gray leaves that make for a dynamic backdrop. Everything looks terrific in front of it. Other colorful choices include Monkey Flower, Penstemon, Yarrow, Salvia, Lavender, Ivy Geranium, even herbs such as thyme, rosemary, and oregano.
Ground cover: "To get the green lushness without the maintenance and water required, opt for green varieties like Korean Grass or Thyme; neither requires mowing."
Find out about other gardening classes, visit: venturawater.net and asmartgarden.com