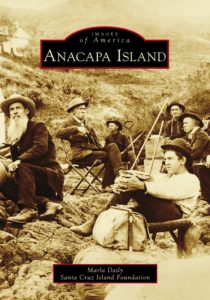 Marla Daily, President of the Santa Cruz Island Foundation, will share images and stories of the history of Anacapa Island from her new book, Images of America: Anacapa Island, during a special lecture on Thursday, August 23.
Beginning in the mid-1800s, the island served as a home for transient otter and seal hunters, Chinese and Japanese abalone fishermen and a series of ranchers. The buildings seen today on the island were built in 1932, part of the last light station constructed on the West Coast. In 1938, President Roosevelt declared Anacapa Island a national monument and in 1980, it became one of the five islands in Channel Islands National Park.
Only eleven nautical miles from the mainland, Anacapa Island consists of three rocky islets that support essential breeding and roosting habitat for seabirds, land birds, harbor seals, and California sea lions. The island serves as habitat for only one land mammal, the endemic island deer mouse, two species of reptiles, one species of amphibian, and 265 species of plants.
Daily, a University of California at Santa Barbara graduate in cultural anthropology, has spent nearly 40 years researching the history of all eight of the Channel Islands. For the past 30 years she has served as president of the nonprofit Santa Cruz Island Foundation. Her efforts in preserving Channel Islands history earned her the California Historical Society's Distinguished Service Award.
The talk is sponsored by Channel Islands National Park to further the understanding of current research on the Channel Islands and surrounding marine waters. The lecture will take place at 7:00 pm at the Channel Islands National Park Robert J. Lagomarsino Visitor Center, 1901 Spinnaker Drive, in Ventura Harbor. The program is free and open to the public.
To learn more about Anacapa (in words and historical photos) attend the lecture and read "Anacapa Island" by Marla Daily. ISBN: 978-1-4671-2901-5 $23.99| 128 pp. | paperback