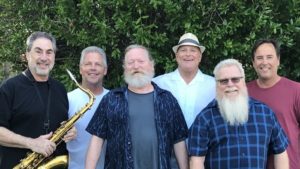 Movies, Music and So Much More!
The 9th annual Wild and Scenic Film Festival is coming to Ventura on Saturday, August 18. Nature lovers and film buffs can join with the Ventura Land Trust (VLT) at this popular annual community event to enjoy a line-up of beautiful and inspirational award-winning short films outdoors under the stars!
"The Wild and Scenic Film Festival brings us together to celebrate the beauty of the natural world and remind us why we should be steadfastly committed to protecting it," said Derek Poultney, Ventura Land Trust Executive Director. "This year our celebration will be bigger and better than ever before."
Before the sun sets and the films begin, music will be provided by two great local bands:
Bill Jones and J. Peter Boles – Bill is a founding member of the SoCal acoustic band Blind Horse Canyon and Peter is an Ojai-based storyteller and minstrel. Together they have played venues small and large across the state.
Mid Life Crisis – A hugely popular six-person Ventura cover band whose set list ranges from the 60's through the new millennium.
The campus of the Ventura County Credit Union's headquarters, 2575 Vista Del Mar in Ventura, will be transformed into an outdoor theater where festival-goers can sit back and relax on their own blankets and chairs while enjoying the movies, live music, food trucks, beer and wine, family-friendly games plus a raffle with high-end items. Vendors and community supporters will have tables lining the festival grounds and VLT will even serve up special family-friendly activities for parents and kids.
Tickets, which sell out every year, are $25 for adults and $5 for children. To purchase, go to www.venturalandtrust.org and click on the 2018 Wild and Scenic Film Festival ticket tab.
Ventura Land Trust (formerly Ventura Hillsides Conservancy) is dedicated to permanently preserving and protecting the land, water, wildlife and scenic beauty of the Ventura region for current and future generations. Founded in 2003, the 501(C)(3) non-profit organization is supported by over 600 members, local businesses and government partners. The land trust manages 90 acres of land along the Ventura River and is negotiating the purchase of its first hillside property. Ventura Land Trust's offices are located in the Poinsettia Pavilion, 3451 Foothill Rd.