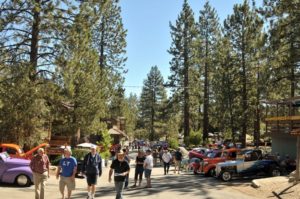 by Mark Bailey President PMCCPOA
From the coast to the mountains in just 90 scenic minutes. Come and visit us in the beautiful, picturesque village of Pine Mountain Club; an area surrounded with pine trees, unique shops, a general store, gas station, hotels and restaurants. The valley lies between two mountain ranges, with peaks soaring well above 8000 feet. Remember, this is the mountain; if you linger into the evening after the show is over it can cool off quickly once the sun goes down. But chances are, blue skies, a few clouds, and crisp, pine – scented air will make for a most enjoyable late summer day! This is our 20th annual Run to the Pines Car Show!
Saturday August 11th is the event. Registration starts at 7am, with the event beginning at 9 a.m. and the awards presentation taking place around 2:00 p.m. Admission and parking to attend the event are free! Trophies are awarded for classes such as, Merchants Choice, People's Choice, Best Paint, Best Classic, Best Muscle Car, Best Hot Rod, Best Off Road, Best Truck, Best Motorcycle, and Best in Show. Weather in August is mild compared to 100+ in the valleys.
Take a short drive for a great day of food, fun, and live music while browsing beautiful vehicles! To participate in the event, download applications from www.runtothepinesautoshow.com and mail in. Pre-registration is $25 and $35 at the gate the day of the event. Email questions to – info@runtothepinesauto-show.com. The event is located at 16200 Mil Potrero Hwy, Pine Mountain Club, 93222. Great for all car lovers! See You There!