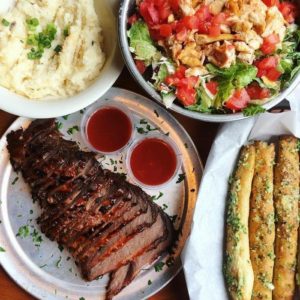 by Sheldon Brown
This is not a restaurant review, because I don't write those. But this is a restaurant comment.
What was once Romano's Macaroni Grill in the Ventura Gateway shopping center (4880 Telephone Road) is now StoneFire Grill. If you were blindfolded and shown the outside – or inside – of the restaurant, you would have no idea where you were. The interior was taken down to the bare studs and completely remodeled.
The restaurant recently held a pre-opening by invitation only dinner (I, obviously snuck in) showcasing the restaurant and the food. I was very impressed with both. It is what I would call casual fine dining. Food is served family style but you grab your own place settings, and get your own drinks.
The menu has something for everyone. Pizza for the kids, pastas, sandwiches, great salads, ribs, tri-tip, chicken, fish, you name it, plus beer and wine. It will be necessary to eat there a few times to figure out how to best order, as most dishes come in four different sizes, for one person to enough for many people.
The food was excellent, and we were also served a sampling of their desserts. The carrot cake was spectacular.
I had better not write anymore more, as it's now sounding like a restaurant review. Go check it out – I think you will be impressed.