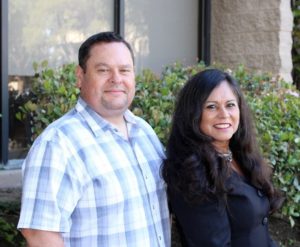 The Cabrillo Economic Development Corporation (CEDC) is pleased to welcome the addition of Naomi Ontiveros and Victor Rodriguez to its Board of Directors.
"On behalf of the Board of Directors, we are delighted to have new board members with professional and life experiences like Naomi and Victor", said Cabrillo CEO Margarita H. de Escontrias.
Ontiveros, an Oxnard resident, is a consultant for the Department of Rehabilitation. She previously served on the Cabrillo board for five years, ending in 2006. She also served as the President of the Board for the El Paseo Homeowners Association, where she currently owns a home after being homeless.
Rodriguez has been a human resources professional for nearly 20 years. He is currently the Director of Human Resources at 4over LLC in Glendale. His professional background includes similar positions at Reiter Affiliated Companies, Monsanto Company (Seminis), and Your People Professionals. He holds a bachelor's degree in Organizational Management from the University of La Verne.
Rodriguez grew up in Cabrillo Village farmworker community from which CEDC originated. He said growing up in Cabrillo Village had a positive impact on his life, creating opportunities for his family they otherwise would not have had.
Rodriguez also has served as a previous board member for Habitat for Humanity and the Workforce Investment Board of Ventura County.
"Cabrillo has a wonderful mission and a great brand. I am hoping my personal experience with affordable housing, my previous board experience with organizations in Ventura County, and my professional background leading Human Resources teams will help Cabrillo accomplish their goals and continue to create housing opportunities for low-income families," he said.
Cabrillo Economic Development Corporation's mission is to provide comprehensive housing services and community economic development activities through a community-building approach that facilitates self-sufficiency for individuals and families who are most lacking in opportunity in Ventura and Santa Barbara counties, and adjacent areas of Los Angeles County. Incorporated in 1981, Cabrillo's early roots were in response to a farmworker community's demand for secure housing. Although this continues to be important, today there is a more widespread need for affordable housing in this region. As such, Cabrillo now provides housing for low- to moderate-income residents and families, including farmworkers, seniors, veterans and individuals with special needs.