by Jennifer Tipton
Located at 550 Sanjon Road in Ventura, Austen's sits at the top of the hill beside the Pierpont Inn and offers an enclosed outdoor dining area along with tables inside. We had lunch in the outdoor area where the view began with lush green gardens and ended with the vast blue waters of the Pacific Ocean. The ambience is truly spectacular!
These beautiful grounds are normally reserved for weddings and banquets, but while the main building of the Pierpont Inn is undergoing renovation, Austen's is open to the public for breakfast 6:30am – 11:30am, lunch 11:30am – 5pm, Dinner 5pm – 10pm and a happy hour Monday through Sunday 4pm – 7pm.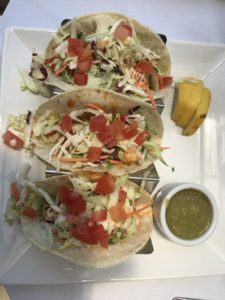 The lunch menu begins with appetizers such as Kung Pao Calamari which consists of calamari prepared with peanuts, red bell pepper, chile de arbol, scallions and a sweet spicy sauce or Soft Pretzels served with Italian sausage, butter pickle chips, caramelized onions and a mustard sauce amongst others. Appetizers $4 – $12
There are a variety of salads to choose from such as Shrimp Nectarine, Grilled Steak or Cauliflower Falafel (for our vegetarian friends). I almost opted for the Salmon Salad with grilled salmon accompanied by Aleppo pepper gremolata, Peruvian potatoes, English peas, asparagus, baby arugula all tossed in a lemon dill vinaigrette. Salads range $6 – $14
On the next page there are sandwiches, burgers, tacos (including salmon tacos), pastas and clam linguini. Sandwiches and burgers come with a choice of French fries, sweet potato fries, homemade chips or a "small" salad and again, there are vegetarian selections available. Prices $10 – $12 except for the pastas and linguini at $15 – $16 (the fettuccini is homemade)
I had the Chile Lime Shrimp Tacos with a roasted tomatillo salsa, tomato and house coleslaw for $12, the shrimp was plump and juicy, the sweet and spicy flavors were tantalizing and each taco was packed so full, they were challenging to eat gracefully! My discretionary dining companion ordered the Pierpont Naan Chicken Sandwich that consisted of a grilled chicken breast with pesto, tomato, red onion, avocado, mozzarella cheese, bacon and butter lettuce snuggled into naan bread with a side salad for $10. The chicken breast was moist and tender and at least ½ inch thick, the warm gooey mozzarella embraced the crisp salty bacon and the "small" side of fresh chilled greens was not so small, each plate tasted as perfect as it looked and while my tacos were divine, have you ever had one of those "I wish I'd ordered that!" moments …?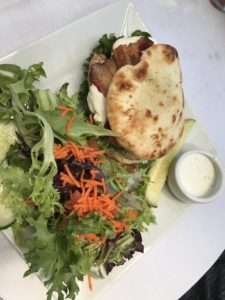 The service was outstanding, our server, Martin refilled ice tea without us having to ask and checked on us routinely. A full bar is available and when we asked if Austen's was dog friendly and the response was "sometimes". I guess it depends on the dog, one of those cute little fur balls peeking out of your purse – ok, but a big Rottweiler named "Brutus" – not so much.
We asked to see a dinner menu and for starters there are selections such as Crispy Artichoke Hearts served with goat cheese aioli or Tuna Poke with a mango papaya relish, sea weed, Thai sweet chili and sesame sauce with wonton chips. Prices $10 – $14
Enticing soups and salads are listed for $5 – $10
A BBQ Tri Tip sandwich and an Ahi Tuna Burger with a choice of a side are offered along with that same Pierpont Naan Chicken Sandwich still priced at $10. There are pasta selections and taking it up a notch are the many entrees to choose from including Pan Seared Scallops with a roasted corn succotash and green mojo sauce, Filet Mignon with baby potatoes, grilled seasonal vegetable and a madeira wine sauce and Rack of Lamb with spring vegetables and carrot puree. They offer halibut, seabass and other steaks as well. Prices $10 – $32
Can you imagine dinner accompanied by the view of a beautiful Ventura sunset?