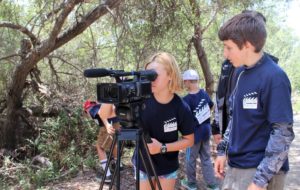 CAPS Media's Digital Storytelling Summer Program kicks off on June 26 at the CAPS Media Center. Designed for students ages 10-15 the program provides young videographers and storytellers hands-on training with cameras, audio, and editing equipment plus teamwork and production skills needed to produce commercials, documentaries, news reporting, comedy shows and more.
Crew members collaborate to create original productions and stories the team want to tell. CAPS Media professional staff direct the activity packed camps utilizing the complete resources of the CAPS Media Center. No prior experience is required for the three-day sessions on June 26 – 28, July 10 – 12 and July 17 – 19. The program runs from 9:30am to 1:30pm each day and the program fee includes use of pro gear, instruction, snacks, a t-shirt and a CAPS Media membership for a year. To learn more about the Digital Storytelling program or to sign up call 658.0500 or go to www.capsmedia.org/events.
CAPS Media recently wrapped production on the City's Mayor For A Moment 2017-18 season. The inspiring series recognizes outstanding 5th graders throughout the school district's elementary schools. Each month students submit essays on a theme such as kindness, responsibility or sportsmanship. School principals and staff select the young mayor based on the creative work and other individual criteria.
A video, created by CAPS Media, is shown at the City Council meeting to introduce the young Mayor prior to the student presenting her or his essay, poem or other work. The young mayor is also recognized at a Ventura School Board meeting. The 2017-2018 young mayors were: Braydon Rocco at Portola, Olivia Blomquist at Poinsettia, Vivian Ryan at Will Rogers, Allison Cabeza at Citrus Glen, Isabella Coleman at Sunset, Tlahuy Goitia at Montalvo, Adriana Perez at Sheridan Way and Holland Kemble at Lincoln. The individual video profiles and a compilation video of all the school year's mayors are posted at capsmedia.org/videos.
The comprehensive Thomas Fire Stories project continues with new first-person stories from firefighters, first responders, officials and members of the public airing every Friday evening at 6pm. The Thomas Fire Stories are produced by CAPS Media in collaboration with the Museum of Ventura County and are supported by photos and videos contributed by the public, firefighters and news agencies. Every Friday evening a new 20-30 minute story premieres at 6pm on Channel 6, on CAPS Radio KPPQ LP 104.1 and online at capsmedia.org.
The extraordinary and inspirational personal accounts repeat throughout the week and can be viewed at any time online at capsmedia.org/videos.
CAPS Media extends congratulations to graduates throughout Ventura. CAPS crews recorded and streamed the Ventura College ceremony and will record and broadcast ceremonies for El Camino High School (June 8) and Foothill Technical High School (June 14).
CAPS Media's mission is to create an engaged and informed community through participation in electronic media. To learn more about CAPS Media, the public is invited and encouraged to go to capsmedia.org or call 658-0500.