Preserving an American Tradition Like No Other, Circus Vargas Delivers the Ultimate Entertainment Extravaganza for 2018! Debuting their latest, new and crowd-pleaser production in Ventura, the much-anticipated tour runs May 24th through 28th at the Ventura County Fairgrounds, returning to the area next month in Santa Barbara at the Earl Warren Show Grounds, June 21st through 25th.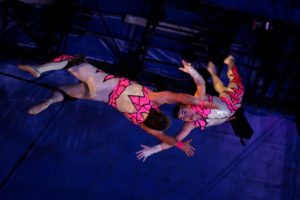 Always fun for the entire family, Circus Vargas' incredible new production highlights an amazing cast of world-renowned performers! See Death-Defying Acrobats, Daredevils, Flying Trapeze Artists, Jugglers, Contortionists, Comedians, Clowns, Motorcycles and much, much, more!
Get ready to unleash your imagination and discover a world of pure circus magic and wonderment under the Big Top, where memories are made and cherished for a lifetime!
Join us for a swashbuckling circus spectacular, with this year's theme "Dreaming of Pirates!" A fantastic voyage of nonstop action and adventure guaranteed to thrill and enchant children of all ages! Prepare to witness the impossible and experience the unforgettable!
Circus Vargas' Dreaming of Pirates… A true circus treasure!
Arrive 45 minutes early for an entertaining, interactive pre-show celebration, where kids can create their own magic under the big top, learning circus skills such as juggling, balancing and more! Meet and mingle with the entire cast after each performance. Capture the fun by posing for pics or selfies with your favorite cast members, all part of an unforgettable Circus Vargas experience!
Ticket Information:
For Circus Vargas performance dates, show times and to purchase tickets, visit www.circusvargas.com, call 877-GOTFUN-1 (877-468-3861) or visit the box office at each location. Follow Circus Vargas on Facebook and Twitter for updates, discounts and behind the scenes video. Veterans, catch our Memorial Day Special; present military ID at the box office and get 1 free member in per family.
PERFORMANCE SCHEDULE:
Thursday, May 24 – Monday, May 28
Ventura County Fairgrounds
(10 W. Harbor Blvd, Ventura, CA 93001)
Thursday, May 24 – 7:30pm
Friday, May 25 – 4:30pm, 7:30pm
Saturday, May 26 – 1:00pm, 4:00pm, 7:30pm
Sunday, May 27– 12:30pm, 3:30pm, 7:00pm
Monday, May 28 – 2:30pm, 6:30pm
Thursday, June 21 – Monday, June 25
Earl Warren Showgrounds
(3400 Calle Real, Santa Barbara, CA 93105) Thursday, June 21 – 7:30pm
Friday, June 22 – 4:30pm, 7:30pm
Saturday, June 23 – 1:00pm, 4:00pm, 7:30pm
Sunday, June 24 – 12:30pm, 3:30pm, 6:30pm
Monday, June 25 – 6:30pm