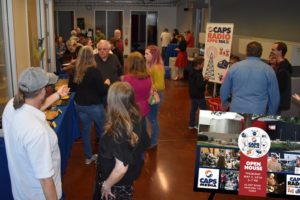 Thanks to everyone who joined in the CAPS Media Open House on May 3rd. at the CAPS Media Center. Member/Producers, students, board members and the public joined in to tour the facility, recognize award-winning producers, sit-in as DJ of the Day in the KPPQ radio control room, screen previews of Thomas Fire Stories, and learn what it takes to master the tools and techniques needed to produce television and radio programming. The engaging event was exceptionally well attended by the community with many guests surprised to learn how easy it is to become a member of CAPS Media. Anyone who lives, works or attends school in Ventura can take advantage of CAPS Media's exceptional training and extensive resources for $25 per year. Likewise, any County non-profit org can join and include four organizational members for $75 per year.
CAPS Media's Digital Storytelling Summer Camp is accepting reservations for a limited number of three-day sessions. Every week crew members receive hands-on instruction in the use of video cameras, audio, lighting, studio production and postproduction editing. The fast paced, activity packed camps are directed by CAPS Media professional staff aided by energetic high school interns from El Camino's award winning ECTV media program. Digital Storytelling Summer Sessions include the teamwork and skills needed to produce comedy shows, commercials, documentaries, news reporting and more – all from the POV of the Digital Storytelling crew members. To learn more or sign up call the CAPS Media Center, 805.658.0500 or go to capsmedia.org.
The Thomas Fire Stories Project continues to discover and record fascinating and engaging first-person stories throughout the community. In the first few months CAPS Media crews have recorded dozens of captivating stories and personal accounts by fire fighters, first responders, and members of the public impacted by the fire. Everyone with a story to tell is encouraged to share their experience. Selected stories will air and stream on CAPS Television, CAPS radio (KPPQ 104.1 FM) and may be included in a comprehensive Thomas Fire documentary. All of the recordings will be added to the historic archival project at the Museum of Ventura County.
Graduation time is nearly upon us and CAPS Media will continue the tradition of recording, broadcasting and streaming graduation ceremonies for Ventura College (May 18), El Camino High School (June 8) and Foothill Technical High School (June 14).
CAPS Media's mission is to create an engaged and informed community through participation in electronic media. CAPS Media manages two television channels (6 & 15) and an FM Radio channel (KPPQ 104.1FM). Membership fees are $25 per year for television and $50 per year for radio. Membership includes training and access to video and audio production and postproduction equipment. General orientation sessions are on the first Thursday of every month, videography classes are on the 2nd Thursday, video editing classes are on the 3rd Thursday and radio classes are typically on Wednesday and Thursday of the 4th week of the month. All classes begin at 6pm. For more information, go to capsmedia.org or call 658-0500.