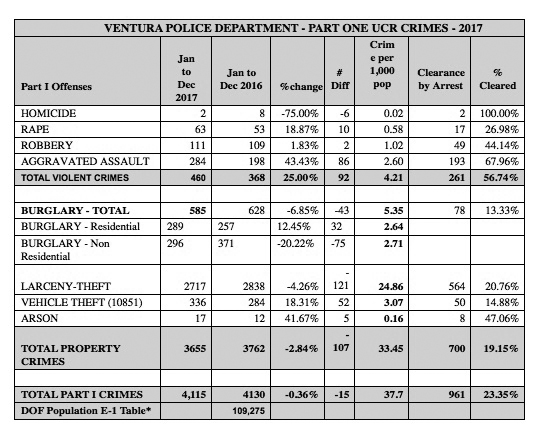 The City of Ventura's Part 1 Per Capita Crime dipped slightly in 2017 to 37.7 per thousand residents, compared to 38 percent in 2016.
Despite the slight drop in overall crime, serious and violent crime increased significantly. Violent crime increased 25 percent with 460 reported violent crimes. This is the highest number of violent crimes in Ventura in over 25 years, and an increase of 92 Violent Crimes compared to 2016.
Aggravated (Felony) Assaults had the most significant increase of 43% with 86 more felony assaults than in 2016. Gang Involvement was known or suspected in 22% of the cases and felony domestic violence accounted for 25%. 68% of the reported aggravated felony assaults were cleared by arrest or arrest warrant, significantly above the national average of 53 percent.
Reported sexual assaults for 2017 rose by 20 percent, including an increase of 8 child molestations and 7 additional reported rapes of an incapacitated or drugged victim.
Overall violent crime clearance rates (crime solved by arrest or arrest warrant) was 56.7 percent – more than 10 points above the national average (46.6 percent).
Reported property crimes in Ventura decreased by 2.8 percent in 2017 with a total of 3,655, compared to 3,762 in 2016. (107 less reported crimes).
These numbers reflect a reduction of 75 fewer commercial burglaries, but residential burglaries rose with 32 more incidents (289 vs 257).