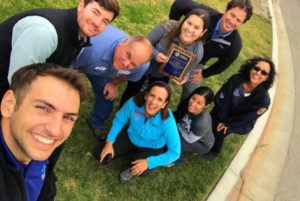 Ventura Water and MERITO Foundation Education Outreach Partnership has been selected as the First place recipient of the Community Engagement and Outreach Project of the Year Award (small budget) by California Water Environment Association (CWEA). The program brings hundreds of students from Ventura Unified School District per year to the Ventura Water Reclamation Facility for a day of hands-on science based learning that include activities the students conduct. The students also interact with professionals from a variety of STEM fields. Ventura Water staff will receive the honor award at CWEA's Annual Conference being held at the Sacramento Convention Center, April 17-20.
These students contributed to ongoing scientific research by collecting valuable observations and data on sea bird populations, water quality of creeks, estuaries and other waterways, marine debris at our beaches, and health of our sand beach and rocky intertidal habitats.
The Sixth International Marine Debris Conference (6IMDC) took place March 12-16 in San Diego, sponsored by NOAA Marine Debris Program and United Nations Environmental Programme. In one week, over 700 individuals from more than 50 different countries gathered for the first time in seven years as a global marine debris community.
The MERITO Foundation took part in this very important gathering to learn, network and share lessons learned. Rocío Lozano-Knowlton, Executive Director of the MERITO Foundation shared data collected by students over past 3 years and strategies on how to build to empower youth to reduce marine debris at its source, and how to monitor it on our beaches.
The MERITO Foundation received $75,000 from Arcturus Manufacturing Corporation as settlement agreement filed in federal court by Wishtoyo Foundation.
The resolution of the lawsuit filed in March 2017 by Wishtoyo Foundation for the discharge of pollutants into the waterways resulted in Arcturus implementing pollution prevention and control measures at its 10-acre Oxnard metal components and products manufacturing facility and providing $75,000 as a Supplemental Environmental Project ("SEP") for CAUSE Inc. and to MERITO Foundation.
The MERITO Foundation is implementing needed experiential science education and conservation programs and community outreach for economically unprivileged and STEM underrepresented youth who live near the affected area. MERITO Foundation's programs and projects analyze, reduce, prevent, and mitigate the ecological effects of stormwater discharges and utilize the SEP funds to serve over 1200 students between March 2018 and February 2019 at Ormond Beach Wetlands, Mugu Lagoon, and the Santa Barbara Channel.
For more information regarding this education program for Ventura youth, contact Rocio.Lozano@meritofoundation.org